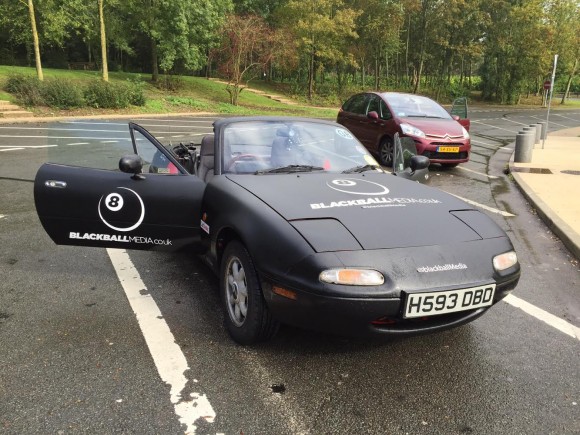 Bangers4BEN 2014 has raised the most it ever has for the charity this year – more than £35,000!
At a sale at BCA Blackbushe today, 30 of the cars which competed in our adventure to Turin and back were auctioned for the automotive industry charity BEN raising £15,500.
One notable absentee from the auction was the Blackshaws Suzuki Dog – this won the prize for the Best Dressed Car on the event and will be displayed at this year's BEN Ball and auctioned off there.

Car Dealer Magazine's Mazda MX-5, entered by James Baggott, made a loss of £250 while our other car, a BMW z4 driven by Andy Entwistle, made a profit of £350.
BCA Blackbushe manager James Gibson said: "We were delighted to help the Bangers4BEN initiative by selling the competing cars here at Blackbushe. This event has raised considerable funds for BEN. Congratulations to the team at Car Dealer magazine for organising the event and to all the teams who took part."
THE AUCTION
Here are the results of today's auction. The car that was bought for the least amount and sold for the most – making the biggest return for BEN – takes our overall winner's prize. Congratulations to Gen-3 for raising such a huge amount for BEN.
A full report on Bangers4BEN will appear in the next issue of Car Dealer Magazine, which will be out in the middle of November. You can subscribe to get that issue here.

WINNERS: Gen-3 Glasscoat, Toyota Yaris (2007), bought for £1, SOLD FOR £2,200, +£2,199
2. InAutomotive.com, Vauxhall Astra (2004), bought for £0, SOLD FOR £825, +£825
3. Aston Barclay, Skoda Fabia (2001), bought for £100, SOLD FOR £900, +£800
4. Bosch 1, BMW 320 (2003), bought for £750, SOLD FOR £1,375, +£625
5. Oakley Service Station, Mercedes-Benz 400 SEL (1992), bought for £500, SOLD FOR £1,075, +£575
6. CAR DEALER TEAM ONE, BMW Z3 (1997), bought for £400, SOLD FOR £750, +£350
7. Fourmative, BMW 530D (1999), bought for £180, SOLD FOR £400, +£220
8. Barley Green Garage, Ford Mondeo (2001),  bought for £1, SOLD FOR £175, +£174
9. Marshall Motor Group 1, Lexus LS400 (1997), bought for £1, SOLD FOR £150, +£149
10. Father and Son Team,  Jaguar X Type (2002), bought for £700, SOLD FOR £800, +£100
11.The AA, Mazda 323 (2002), bought for £250, SOLD FOR £325, +£75
12. The AA, Peugeot 406 LX HDI, bought for £350, SOLD FOR £350 £0
13. Bosch 3, Toyota Celica (2002), bought for £750, SOLD FOR £750, £0
14. Danes Autos, BMW 325ci (2001), bought for £950, SOLD FOR £850, -£100
15. Templar Cars, Ford Focus (2002), bought for £500, SOLD FOR £400, -£100
16. Codeweavers, Honda Accord (2002), bought for £575, SOLD FOR £475, -£100
17. Pinewood Technologies,  Alfa Romeo 147 (2003), bought for £250, SOLD FOR £125, -£125
18. The AA, Audi 80 (1994), bought for £300, SOLD FOR £175, -£125
19. Sportif Vauxhall, Vauxhall Omega CDX (2001), bought for £350, SOLD FOR £175, -£125
20. Sunday Times Driving, Honda Prelude (1999), bought for £500, SOLD FOR £375, -£125
21. Marshall Motor Group Two, Citroen Berlingo (2001), bought for £500, SOLD FOR £350, -£150
22. Southcombe Garage, BMW 523i SE  (1998), bought for £344, SOLD FOR £175, -£169
23. CAR DEALER TEAM TWO, Mazda MX5 (1990), bought for £500, SOLD FOR £250, -£250
24. News UK Automotive, Peugeot 307XSi (2002), bought for £500, SOLD FOR £250, -£250
25. Branson Cars, Fiat Punto (2001), bought for £650, SOLD FOR £400, -£250
26. MoneyBarn, Alfa Romeo 147 T SPARK (2004), bought for £725, SOLD FOR £475, -£250
27. Independent Garage Association (RMI), BMW 523i SE  (1997), bought for £550, SOLD FOR £225, -£325 
28. SunMotors.co.uk, Ford Mondeo (2003), bought for £500, SOLD FOR £150, -£350
29. HPI, SAAB 9-3 SE (1999), bought for £745, SOLD FOR £350, -£395
30. Rawlinson Group, Renault Safrane (1998), bought for £600, SOLD FOR £75, -£525
31. Bosch 2, Toyota Celica (1993), bought for £750, SOLD FOR £150, -£600
Total auction: £15,500
Other (private) sales: £1,250
Total fundraising: £11,363.42
GRAND TOTAL RAISED: £28,113.42
The Bangers Back Catalogue
MORE: MEET THE BANGERS4BEN TEAMS
MORE: DAY ONE BLOG AND PICS
MORE: DAY TWO BLOG AND PICS
MORE: DAY THREE BLOG AND PICS
MORE: TOP TWEETS DAY ONE
MORE: TOP TWEETS DAY TWO
MORE: TOP TWEETS DAY THREE