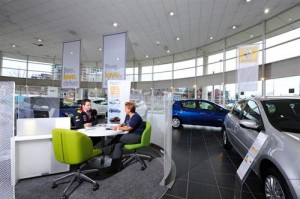 It's not just a rulebook – car dealers must be seen to be 'treating customers fairly', says Frontline Solutions' Martin Hill
This month I want to look at the upcoming regulation of Consumer Credit from April 2014. As you may have heard the Financial Conduct Authority is to take responsibility for ensuring that anyone with a consumer credit licence is treating people fairly – and that obviously includes the automotive finance sector.
Although the new regime will involve a substantial change over the existing one, it is important to stress that no-one knows at the moment what the new rules will say.

I have been contacted by several dealer groups who maintain that they have been told what to expect from the new FCA regime, but this is an impossibility – the final rules haven't even been decided yet, for goodness sake!
So best to use the time between now and regulation constructively!
Firstly, bear in mind that there will be a lot more people on the ground enforcing any new regime, largely because the existing Office of Fair Trading is being absorbed into the new FCA structure. There are well over 100,000 consumer credit licence holders in the UK and they will all need regulating.
'It is important to stress that at the moment no-one knows what the new rules will say'
To put this in context, there were about 30,000 firms brought into general insurance regulation back in 2005! I believe that the chances of being visited (or caught!) by the new regulator will have significantly increased compared to the general insurance regime, which many dealers opted out of by choosing not to offer insurance-based products. Secondly, remember that regulation is not just going to be about a rulebook.

Whereas rules are useful to establish a structure, the regulator will also be looking to make sure that car dealers embrace the 'spirit' of regulation and are 'treating customers fairly'.
This is a more subjective and ethical measure and I believe will include practices such as needlessly multi-proposing a customer to many lenders without justification.
Why would this practice be seen potentially as not treating the customer fairly? Simple – by needlessly multi-proposing a customer you would be racking up credit searches that would show on their file, and would ultimately reduce their ability to obtain credit in the future.
We have all seen the staggering amounts of money that Banks and lending institutions have put aside for the mis-selling of payment protection insurance.
The claims management companies have made millions from this scandal. I believe that in the future the attention of these companies will turn to other areas where they can maintain these profits.
One of the likely candidates, because of the size of the agreements, could well be consumer credit. Imagine the advertisements in the papers and on TV – "Have you wrongly been sold a loan or credit product? Were you treated fairly?".
It may well be on the horizon, and maybe sooner than we think. I'll come back to this subject as things take shape. In the meantime, just remember to keep regulation on your radar!