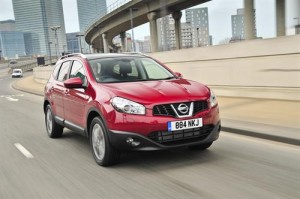 NISSAN'S Qashqai, Hyundai's i10 and Volkswagen's Bora are March's fastest-selling used cars, reveals Glass's.
The Sunderland-built crossover topped the league table with an average of 25.3 days in the showroom. The rest of the list was made up of the Hyundai i10, Volkswagen Bora, Audi Q3, Audi TT, Nissan Almera, Peugeot 2008, Audi A1, Ford Fiesta and Peugeot's 3008.
The worst performing were the Mini Paceman, the MG6 and the Vauxhall Cascada, all taking more than 80 days on average to sell, and for the Cascada more than 100 days.

Rupert Pontin, chief car editor at Glass's, said: 'Peugeot's 3008, in at number 10, appears to be one of the better kept secrets now coming out of the bag. Similar in style to the Qashqai, it's a great family car that offers excellent value for money. At the same time, it hasn't taken the used market long to fall in love with the fun-looking and very capable Peugeot 2008 which takes seventh spot. Peugeot has clearly embraced this sector with open arms!
'The latest figures will also be very pleasing to Audi, whose Q3, in fourth place, makes an excellent premium-badged, premium-priced alternative to the other crossover SUVs. With the TT and A1 also in the top 10, our table clearly rubber stamps the Audi brand's current popularity and relevance. The strength of another German brand, Volkswagen, is demonstrated by the somewhat surprising rise of its Bora to number three.'
Pontin added: 'It's hard to believe that the Vauxhall Cascada is the slowest seller of all, which suggests that it's either in oversupply or it's overpriced. Realistically, it's probably a combination of both. Only time will tell. I'm also extremely surprised to see the Mini Paceman in such a lowly position. Pacemans have been very successful in the new market but perhaps buyers only want them as new cars or find that the second-hand models are overpriced.'