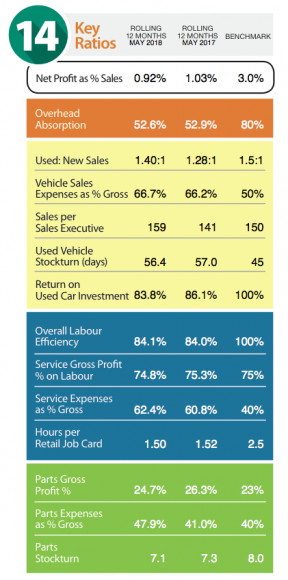 THE AVERAGE UK dealer profitability was strong in May 2018, according to ASE.
Average profit for retailers was £300 for the month, representing a huge year-on-year improvement from May 2017, when the figure was -£17,000.
Genuine profitability could be seen coming through in new car sales, although this is franchise dependent. This is expected to continue in June thanks to the apparent low levels of pre-registration.

Meanwhile, used car sales continued to perform well in May. There were significant volume increases for the course of the month, but this was offset by a fall in the overall gross margin. Stock investment levels continued to fall, which should produce a steady improvement in vehicle stockturn.
Looking ahead, a clearer overall outlook will be available at the end of June, which had lower levels of registration due to a fall in last-day registrations. This should mean a strong overall performance for the month, with retailers taking less pre-registered vehicles into Q3.
It's also to be anticipated that WLTP will affect performance in Q3, but this can be expected to balance out by the end of the year, allowing franchises to hit their annual targets.
Mike Jones, ASE chairman, explained that the overall outlook for the year will only be determined once the results for June are in, stating: 'Whilst we have seen positive retailer performances for of April and May, which is clearly a positive, it is only when we reach the end of June that we will obtain a clearer view of the overall outlook.

'Although registration levels in June were lower for the month than in 2017, this was entirely down to a fall in last-day registrations. I am therefore expecting overall performance for the month to be strong, with retailers taking fewer self-registered vehicles into Q3. As we move through Q3 I am expecting WLTP to start to impact performance, particularly for those franchises with a dearth of vehicles until the new regulations come into force. Hopefully it will all balance out by the year-end enabling franchises to hit their annual target.'
MORE: Average UK motor retail profitability down 6.7 per cent in March says ASE
MORE: ASE's profitability figures reveal a positive January for dealers
MORE: Mazda dealer profitability increased by 38 per cent in 2017
On WorkshopMagazine.co.uk: Son's £120,000 tribute to his late father going under the hammer