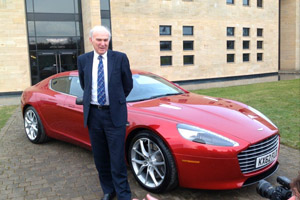 ASTON MARTIN will create 20 new jobs spread across its Gaydon and Coventry sites, as production for the new Rapide S begins in the UK.
The firm introduced the additions after receiving Government backing – getting part of a £213 million scheme that's designed to safeguard over 16,000 jobs in the UK – and will help it move production of the Rapide, currently built in Austria, to the UK.
'The RGF [Regional Growth Fund] backing has helped us bring production of the new Rapide S back to the Midlands,' commented Dr Ulrich Bez, chief executive of Aston Martin.

'We are looking forward to support from the Government for our future significant investment plans, which will help us safeguard existing jobs and create more.'
Business secretary Vince Cable said: 'Aston Martin is an iconic British brand, so it should be made in the UK. Otherwise it's like having champagne from Bulgaria or a Swiss watch built in Swaziland, said Mr Cable.
'This is exactly the type of high-value manufacturing that we excel at here in the UK. Our industrial growth strategy will ensure that we retain and grow these types of businesses in the long term.'
The Rapide S, announced earlier this week, is quoted as being the 'most powerful four-door Aston Martin to date', with 550bhp on offer from its 6.0-litre V12. This brings its 0-60mph figure down to 4.9 seconds, and its top speed up to 190mph.

CO2 emissions have also improved – now 332g/km against the outgoing Rapide's 355, and fuel economy is now 19.9mpg combined. The Rapide S will debut at the Geneva Motor Show in a few days time.