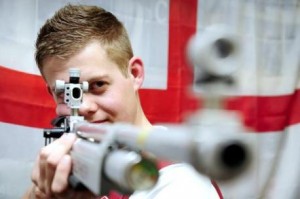 A TECHNICIAN from an Audi dealership in Oxfordshire has won a medal at the Commonwealth Games in Scotland.
Twenty-three-year-old Dan Rivers took England's 18th medal at the Games after claiming a bronze today in his 10-metre air rifle shooting event.
Rivers took part in a shoot-out with India's Ravi Kumar to claim bronze and lost out on a silver medal in a further shoot-out, this time with Abdullah Baki of Bangladesh.

Abhinav Bindra, the 2008 Olympic champion, went on to take gold, with Baki picking up silver.
After his medal success, Rivers, who lives in Didcot, said: 'The heart rate goes up as soon as you see you are tied on the screen. You just have to pick your timing, go between the beats, and do your best.
In comments reported on the Oxford Mail website, he added: 'We try to train under pressure but on this scale nothing compares. It's like a penalty shoot-out in front of a packed stadium.'