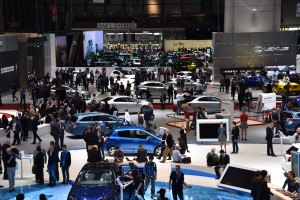 NOW you might think we've gone a little bit Geneva mad this month – and you'd be right. Some 21 pages of scintillating sentences stitched into palpable paragraphs await you somewhere (depending on where the editor decides to dump me this month) elsewhere inside this magazine. And I'm afraid I'm going to add to those many, many words with my own take on the most important motor show of the year. But bear with me, as I'm going to be stereotypically honest.
The Car Dealer team uses the motor show as the perfect place to gain access to the manufacturer executives that would otherwise take months to set up meetings with. They're all in one (albeit massive) place and all up for a chat. And chat we did. Motor show virgin editor Colin didn't know what had hit him as he ran around the show like a mad man, staff writer Becca looked like a rabbit caught in the headlights of a massive oncoming car, while I never saw Chris as he was so busy.
Me? Well, my day didn't start well. I decided to arrive a little later than the usual 7.30am entry mainly to avoid the massive crush of already-sweating and impatient motoring hacks gathering outside the show's doors that's an annual occurrence as welcome as whaling. That would be my first mistake.

At 10am the traffic outside Geneva was close to escaping an impending disaster in the movie levels. I was tempted to grab a passing biker, steal his wheels and head for the hills. And that was before I saw the queue for the car park, which took an hour-and-a-half to get through. I think I technically parked in France and walked across the border back to the show…
But I needn't have rushed. The halls were still busy, the cars still shiny and the girls still half undressed. Geneva is a key show for manufacturers because it's the first of the year in Europe and there was plenty to look at – while on some other stands frankly so little I wondered why on earth the manufacturers in question had shelled out all the money.
'…college project that had been knocked up in one hell of a hurry…'
Let's start with the Germans. BMW had, err, a stand. Mercedes had a REALLY big old car with fewer wheels than the last really big car they had on their stand. Audi had a new R8 that, well, didn't really blow my socks off. It's hard to change an absolute classic design (just ask Porsche), and I'm not quite sure if they managed it. Still didn't stop the Germans sweating over it.
I had a cursory glance around the VW stand, spotted a rather boxy-looking Golf estate that did nothing for me and moved on. Porsche had taken things seriously with its Cayman GT4 – but we'd already seen pictures of that so it sort of spoilt the surprise. It's a bit like showing your child a picture of their Christmas presents in the catalogue before you dish them out. Shame Ferrari did the same thing with the 488 GTB. I walked past and it was covered up. I have literally no idea why it was draped in a cloth when the internet was already weighed down with gigabytes of official pictures of it. Italian logic, eh?

I stumbled across the McLaren stand which was in typical Ron Dennis Lock Down Mode, so I couldn't get anywhere near either of its show stars. The P1 GTR looked a bit, well, yellow and green from where I was stood and I could see absolutely no point in the 675 LT and there was no-one to tell me why I should care, so I walked off.
Jaguar Land Rover had seemingly forgotten there was a show on so bought some cars we'd seen before. And a couple of others it had rubbed over with a flannel. The manufacturer didn't even hold a press conference… you know when a car firm is dripping in cash when it can do that. Honda showed off its NSX (at last), which is already starting to look old, while we got our first glance at the Civic Type R. If ever there was a car that deserved a Dog's Dinner tag it's this. It's got more flaps and slits than a box of envelopes and looks half finished. The skirting board that's tacked around the wheel arches is a true triumph…
Fortunately Ford had an answer. Although the RS looks a little plain, it's far more stylish than its Japanese rival and the GT looks all worlds of amazing. It was clear new Aston Martin boss Andy Palmer didn't like the firm's Geneva plans when he arrived at Gaydon, because the DBX concept looked like it was a college project that had been knocked up in one hell of a hurry at fear of a sacking. The Vulcan just about fit in Hall 2 and looked, well, a bit green and wingy.
And as I'm now running out of space here's my fast-paced look at my other highlights: Renault Kadjar – silly name, surprisingly impressive. Kia Sportspace Concept – an Audi estate rival with a sensible price tag. Bentley EXP 10 Speed 6 – if we don't see it in showrooms soon I'll eat my Converse. Porsche 911 GT3 RS – woah. Nissan Sway Concept – make the next Micra look like this. Now. And that's about it.
Geneva wrapped up in probably too many words. Until next year when we'll write some more…
MORE: Devastated but dishonest: Rogue Jaguar dealer is jailed for five years
MORE: Fast-food chain's CEO will take the reins at Halfords
MORE: Familiar faces launching a new trade-to-trade website
On SuperUnleaded.com: When it all goes badly wrong in the workshop