BANGERS day two can be summed up with two words beginning with R: rain, and red (wine).
After a drizzly start, our teams left Le Mans and headed south to the historic city of Bordeaux, where a 'wine and cheese extravaganza' awaited us.
For Team Barbie, the day started badly: if our hangover-fed moods weren't low enough, they certainly weren't improved by the sight of a bedraggled stuffed Garfield being thrown into the front seats of our Golf.

For those outside the Bangers circle, Garfield represents a game of hot potato: find him in your car at the end of the day and you'll be subjected to a forfeit, namely having to model an exceptionally hideous nurse's outfit for the evening.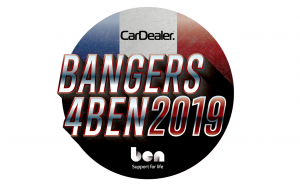 Rather than deal with the situation there and then, though, we elected to get a shift on towards Bordeaux and rehome our furry friend later.
Thankfully, France's motorways didn't claim any more victims today – unless you count the Brexit Taxi's wiper blades, which mysteriously tied themselves into a knot during a particularly heavy downpour.
In fact, the ordeal had left Andy, Piers and PJ so stressed that we couldn't bring ourselves to try to sneak the lasagne-eating cat into their cabin.

That left us with just one choice: lob it into Car Quay's MX-5 as they arrived at the hotel and immediately run away. Sorry not sorry.
Next came the wine tasting: a gentle affair at a wine bar buried in Bordeaux's charming city centre. Or it was until we all turned up, anyway.
I won't go into details (what happens in Bordeaux, etc etc) but several bottles of sauvignon blanc and the questionable hiring of an electric scooter later, we may not be allowed to return. Still, totally worth it.
As for the Lawgistics replacement banger saga, things have been moving a little more slowly. Being in France on a Sunday, it quickly became clear that no amount of money – let alone the few hundred euros we'd scrounged up – would be enough to wake the sellers of any of Le Mans' moss-covered 'modern classics' before 3pm.
At the time of writing, negotiations were still ongoing, but so far – much like our PM's communication attempts this week – Craig's calls to the French have been going unanswered.
Here at Car Dealer though (and subject to any fresh supreme court challenges), we're happy to confirm that Joel and Ian will be leaving the EU on October 8, with or without a deal. Possibly as foot passengers on the Pride of Calais.