DAY one of Bangers4Ben 2019 is now at its close, our teams having (mostly) made it to their first overnight stop.
The French city of Le Mans – famed for its annual 24-hour race – was our destination for today: a relatively relaxed four-hour drive across France's network of autoroutes from Calais. This being Bangers, of course, things didn't go immediately to plan.
Our first casualty came before we'd even hit Dover, with Team Promotive's Mini One diesel bowing out of the race in the UK. No matter though – the Star Wars-themed pair soldiered on in an emergency replacement: an appropriately Darth Vader-like BMW 520D.

Then, the next morning, keen to heed the warnings about late arrival at the docks, a handful of our teams were so prompt at the check-in gates that eager P&O employees gestured them on to an earlier ferry – before we'd even had the chance to hand over their road books for the day.
However, a swift regrouping just south of Calais saw everyone back together in one place, giving us the opportunity to check out each other's decorative handiwork.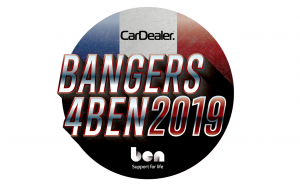 Bangers4Ben is always a fantastic showcase of what can be achieved with a little imagination and (probably more than) a little budget for materials, but it feels like this year things have gone one step beyond.
It's fair to say that everyone has put in a lot of effort, although some have naturally ended up a little more eye-catching than others.

A trio of Mario Kart-themed cars – iVendi's Saab 9-3, Your Best Car's Audi TT and, most prominently, Car Quay's PA system-equipped Mazda MX-5 – have been stealing admiring glances and photos wherever they go.
If you thought Jamie and Craig's MX-5 was imposing though, Emerald House of Cars would like a word. Wrapped in a mirror-like shade of – you guessed it – green, and with widened arches plus engine and drivetrain modifications, their Mazda drop-top is even more visually (and audibly) arresting.
Culture vultures as we are at Car Dealer Towers, it's also hard to ignore the pair of Peaky Blinders-themed bangers on the trip: Autofinity's Honda Civic, and DMN Logistics' beautifully painted Saab 9-3.
There are far too many other cars to highlight today but – as per my terms of employment – I must also mention Blackball Media MD Andy Entwistle and the team's shamelessly British-themed black cab, adorned with enough Union Jacks to make even Nigel Farage wince.
Meanwhile, I've dodged the risqué Brexit taxi and have installed myself in Rebecca Chaplin (previously of this parish) and sister Abi Chaplin's Barbie-themed Golf cabrio, where – if tomorrow's weather forecast is to be believed – I'll be quietly freezing to death in the rear seats somewhere around Poitiers.
The final shout-out goes to Team Lawgistics, whose distinctly pink Peugeot 206 CC sadly came to a clattering end not far from Le Mans. The diagnosis? A snapped cambelt. Prognosis? C'est terminal.
A group whip-round and some help from serial rubbish car buyer Craig Cheetham should see them back on the road soon in a newly purchased, locally sourced Le Mans banger. The current contenders – in reverse order of embarrassment factor – are a dented Renault 21, a rare-for-a-reason Fiat Punto cabriolet, and a 1.1-litre Rover 100.
Will LawJaw and The Judge choose train tickets to Bordeaux over driving a rebadged Mini Metro?  Will the welded differential in Emerald's MX-5 make it out of the Novotel car park? Will our awkwardly timed Brexit cab be set alight on the streets of Le Mans by the morning? Tune in tomorrow to find out…