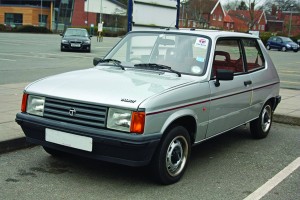 I HAVE a friend called Dodgy Tony. It's unfair really, as he isn't in the slightest bit dodgy. He just has that look about him…

The reason I mention this is because Tony is a mechanic and one of those blokes who is extremely useful to know. Whatever fault you find on a car, no matter how difficult it may appear to be to diagnose, Tony will not only fix it but will also find a cheap way out. And given how tight margins in the motor trade are at the moment, that makes him a very useful bloke to know. All you need is cash, his mobile number, and no need for a receipt…
Anyway, I digress. I mention him because for the past four years he has been the custodian of a 1991 H-registered VW Golf GTI which I gave £500 for in part-exchange back in 2010. It has the wrong number of doors and wrong number of valves to be the nadir of GTI ownership (five of the former, eight of the latter, as opposed to three and 16).

The car came from a city-based musician who had used it for the past decade to transport his double bass around the country. Reliability was key, so he'd had it over-serviced and collected and saved every single receipt, leaving it with a service history big enough to fill a bin liner – right down to the original bill of sale showing that the first owner had chopped in a five-year-old Audi 80 in order to buy it. In classic car circles, this stuff is known as provenance…
Alas, the musician had also caused untold havoc to the interior trim, boot carpet, rear tailgate and closing panel with his chuffing great string instrument, and in order to compound matters the lacquer was peeling off the bonnet and roof, making the thing look far worse than it actually was. It's well known in the trade that I like a modern classic, and in this GTI I saw the potential, so I gave Tony a ring and foolishly suggested it might be one for him to tidy up 'between jobs'.
I should have known better, as 'between jobs' in Tony- speak meant the poor old Golf spent the next four years slowly being swallowed by the undergrowth in his back garden. One thing that did happen in that four-year period, though, was the phenomenon of the 'barn find'.
'Barn find', it seems, is an incredible way of making money out of unroadworthy old rubbish
Previously, a barn find was a classic car discovered in a barn or outbuilding, and usually one that would seriously excite the collector market. I remember, for example, an AC Cobra turning up in component form out the back of an old farm, and subsequently selling at some collector auction or other for a sum close to seven figures – now that's a LOT
of money for an Airfix kit, especially one with advanced corrosion. A few months later, a similar story developed around a lightweight Jaguar E-Type – it didn't fetch quite the same amount of money, but you could certainly have taken a mortgage-free trip to the estate agents on the proceeds.

Then came the dawn of social media. Today, there's a 'barn-find' group on Facebook, and its members get stupidly excited about all sorts of ordinary rubbish. I recently witnessed a 'barn-find' Talbot Samba, which had been uncovered in the garage of a 1950s semi, selling on eBay for a couple of grand. And that, dear readers, is even more ridiculous than the Cobra – would you really pay good money for a crap mass-produced French hatchback that has spent the past 12 years having its brake hoses nibbled by rodents? Nor would I. Regardless, I joined the group, and watched with interest some of the cars they uncovered.
A Cavalier masquerading as a privet hedge, but with a warranted 17,000 miles on the clock? Good money. A Volvo 240 Estate that had spent two-thirds of its life parked up with a knackered clutch down the side of a house in Brighton, where it served as a store for the owners' garden tools? It went for over a grand. An MG BGT that had been holed up in the back of an underwear warehouse for three decades? Let's just say I've seen taxed, MoT'd and reasonably well-restored examples go for less.
The 'barn find', it seems, is an incredible way of making money out of unroadworthy old rubbish.
My interest peaked when a blue Mk 2 Golf GTI not dissimilar to my own was found in a garden, peeping out from behind some weeds. When it sold for three grand I got quite excited and jumped straight on the phone to Tony…. 'Mate, it's about my Golf…'
'How bizarre you should suddenly mention it,' came the reply. 'It's in the workshop having a coat of primer. Figured I should finally get round to doing something about it after all this time, and the MoT's booked for next Tuesday….'
'Noooooo…!' There I was, in possession of premium barn-find real estate, and my mechanic has only gone and started to restore the bloody thing. It'll probably be worth less when it's finished…