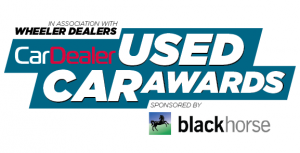 LEADING finance specialist Black Horse is the latest company to support the Car Dealer Used Car Awards, becoming headline sponsor.
The company says it has signed up because of Car Dealer's 'respected' position in the industry and that it recognises the awards' unique positioning.
Commenting on the news, Black Horse's managing director, Chris Sutton, said: 'Car Dealer is a respected trade journal and reaches out to more than 17,000 car dealers and manufacturers. This also comes at a great time for the business, as Black Horse has a clear growth strategy with current investment in our customer proposition and technology.

'We are delighted to be the headline sponsor for the first time, in what we know will be another good night for the motor industry. It comes at a great time of year to reflect on the effort and successes in 2013 and get ready for 2014. Black Horse is proud to be associated with the Used Car Awards.'
The Used Car Awards will once again be held at The Brewery in London on December 2 and will see Car Dealer team up with Mr Wheeler Dealer himself, Mike Brewer, to recognise and celebrate the used car industry's finest.
'We were really impressed with last year's event,' said Sutton. 'It's a great opportunity for key dealers and suppliers to get together and celebrate success in various areas. Like the Car Dealer Power awards in The Spinnaker Tower, Portsmouth, The Brewery is also a top-class venue.
Sutton went on to say: 'Paul McGill, Black Horse's head of motor finance south, attended last year and thought it was a great event. Paul was really impressed by the venue, the calibre of the guest list, the quality of dinner and the overall organisation of the event. Speaking to various dealers who attended the event we know that they had a great evening too. It was a superb networking opportunity and cause for celebration'.

WHAT ARE THE USED CAR AWARDS?
The award's raison d'être is to the celebrate the very backbone of UK automotive PLC – the used car industry. And this year we've added more categories for dealers to nominate themselves in, and we're making sure the Christmas party feeling is as good as ever. Attendees will enjoy all-you-can-drink beers and wine, a delicious three-course meal, live entertainment and a disco. with a delicious three-course meal on offer and an all-you-can-drink bar.
On December 2, we will be handing out awards in 21 different catagories. You'll notice the categories are varied and open to any dealership, no matter how large or small, and we are accepting entries now.
CLICK HERE TO SEE THE CATEGORIES AND FIND OUT WHY YOU SHOULD BE GETTING INVOLVED
If you're wondering how you can go about nominating yourself and – hopefully – a few other dealers who you think deserve a mention, well, we've made it easier than ever this year – simply click here to bring up our nominations form.
Just fill in the categories you want to – and we'll do the rest. It couldn't be any easier.