BLACK was the most popular choice of colour for new cars in 2017, according to figures from the SMMT.
More than half a million new black cars were registered in 2017, placing the colour at the top of the rankings for the first time in five years.
Second place went to grey, while white, previously the most popular colour, found itself falling to third place. Blue was placed fourth, followed by silver in fifth place and red sixth.

The rest of the rankings went to green, orange, bronze and yellow respectively. Interestingly, orange and bronze were both more popular than ever before, with the latter entering the top 10 for the first time and replacing brown.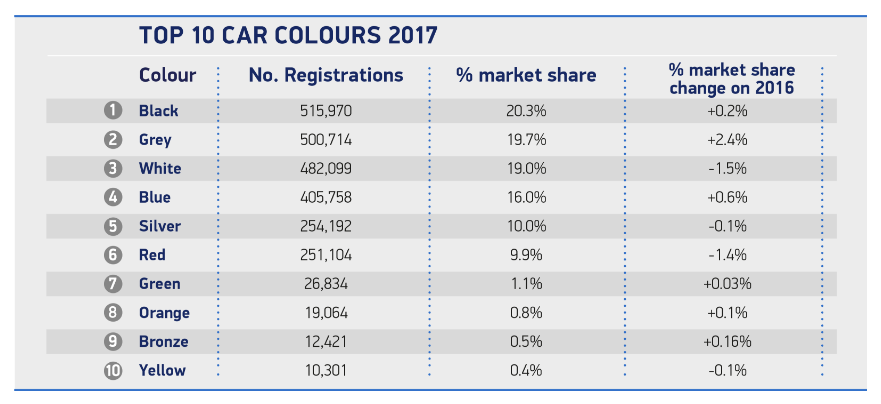 The fastest growing colour in terms of popularity was gold, which went up 19.1 per cent, although it still didn't earn a place in the top 10.
Mike Hawes, chief executive of the SMMT, said: 'Picking a colour is one of the many exciting decisions to make when specifying a new car, as well as selecting from the cutting-edge safety and comfort tech available on the latest low-emission vehicles.
'Manufacturers are continually investing to bring more choice to car buyers, including more colours and colour combinations than ever before.'

MORE: SMMT president urges faster, concrete progress over Brexit transition period
MORE: Used car sales fall but market is holding steady, says SMMT
MORE: SMMT revises registration prediction for 2017 to only 2.6 million cars
On WorkshopMagazine.co.uk: Garage starts year in style with £1,000 prize