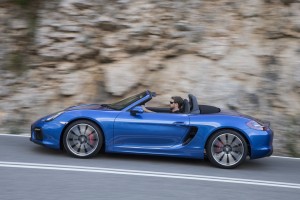 A DEALER had only just waved goodbye to a £50,000 Porsche when its new owner crashed it into a queue of cars.
Ping Ch'ang was driving up to a set of traffic lights in Shenyang, China, when she hit the accelerator pedal instead of the brake and caused £150,000 of damage.
The 27-year-old driver had just turned out of the Porsche garage and was still waving to the dealership staff when she suddenly speeded into a queue of cars waiting at a red light.

The Mirror reported that Porsche dealer Qiang Chiu said: 'We were still waving her goodbye when she shot forward and there was a tremendous bang.'
The white Porsche Boxster is expected to need extensive repairs. He added: 'We all ran over and she wasn't hurt but the car was a real mess. We pushed it back to the showroom where it is with the mechanics. We'd warned her that it was a very powerful car.'
A witness, Zhang Ko, also commented on the crash, saying: 'She seemed to be trying to change lanes when without warning she shot forwards.'
The Boxster is capable of 0-62mph in just 5.7 seconds and has a top speed of 162mph.

Police spokesman Ho Hsia said: 'All the other cars were stationary so she bears the responsibility for the accident and is liable for compensation.'