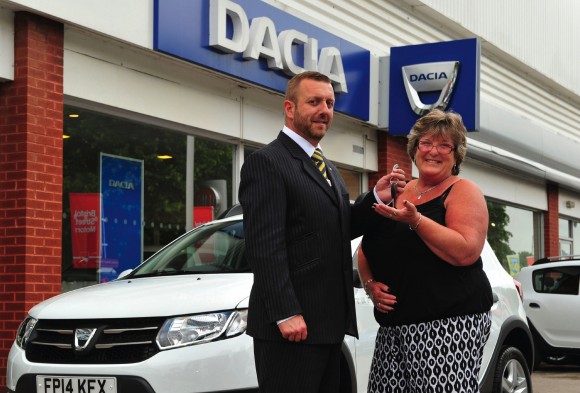 BRISTOL Street Motors in Derby has just handed the keys to the 25,000th UK motorist to buy a Dacia.
Alison Beirne, a customer service executive, received the keys from the dealership's sales manager, Andrew Peacock.
And Andrew had a couple of surprises up his sleeve too to mark the milestone – a bouquet of flowers and the gift of a year's gym membership for his happy customer.

In just 18 months, Dacia has blazed quite a trail in the UK. The 'shockingly affordable' brand is setting an impressive pace and is sitting on an order bank of a further 3,500 vehicles. The marque is certainly giving established players such as Mazda, Mini and Volvo a run for their money.
Mrs Beirne splashed out £9,995 on her gleaming new Sandero Stepway Laureate TCe 90, in white, but 'having done the maths' for herself, she saved herself thousands of pounds compared to rival cars.
She said: 'I had a 12-year-old car which was reaching the end of its life and a friend of mine casually said why didn't I just pop into Bristol Street to check out the Dacia range. As soon as I saw the Sandero Stepway in the showroom, I knew it'd be perfect for me.'
Renault offshoot Dacia, Europe's fastest-growing car brand, can now boast the most successful UK retail car launch in history. Its four-model range of Sandero, Sandero Stepway, Logan MCV and Duster kicks off at just £5,995, topping out at £15,495.