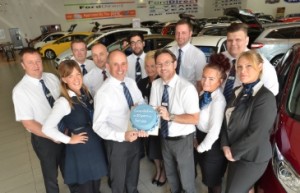 BRISTOL Street Motors Ford Worcester has helped one of its colleagues celebrate 30 years of loyal service.
Pete Brampton, 53, joined Bristol Street Motors in 1984, starting work at the original dealership in Birmingham before moving to Worcester in 2009.
Working as a used car sales executive Brampton estimates he has sold more than 6,000 cars. He believes that the two main attributes for a successful salesperson are a focus on delivering the best customer service and a sense of humour.

He said: 'I have seen changes over the last 30 years but have always enjoyed my role, have worked with some fantastic colleagues and met many satisfied customers.
'Bristol Street Motors is a great company to work for, which is demonstrated by the number of colleagues who have been here for many years, and I am proud to have achieved such longevity and am looking forward to the next 30 years!'
Simon Parsons, general manager at Bristol Street Motors Ford Worcester, said: 'Pete embodies the company's key values of passion, respect, professionalism, integrity and commitment.
'He is a popular and valued colleague and everyone was delighted to mark his 30 years service.'