CAR Dealer Magazine has donated more than £14,000 to Great Ormond Street Hospital.
Much of the cash came from the proceeds of a 'trading up' feature in the magazine's celebratory centenary issue last year.
This was boosted by generous donations from hundreds of guests attending the Car Dealer Used Car Awards – now a fixture on the automotive industry calendar – in London.

Presenting the cheque to fundraising executive Jenny Pearce, James Baggott, founder of Car Dealer Magazine and CEO of its parent company Baize Group, said: '2016 was a fantastic year for Car Dealer Magazine.
'Our 100th issue was a real landmark in the magazine's history, and our high-profile events including CDX – the UK's biggest automotive industry trade expo – and the Used Car Awards were bigger and better than ever before.'
He added: 'We couldn't have raised this money without the amazing support of car dealers, dealer groups, manufacturers and friends across the country.
'As ever, we have been totally blown away by their generosity of spirit.'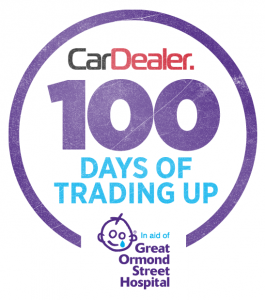 Conceived as part of Car Dealer's centenary issue – the monthly magazine's biggest ever – the 'trading up' feature saw Baggott try to raise the maximum amount he could for charity by buying and selling cars, starting with an initial stake of just £100.
The feature was compiled with support from car retailers across the country.
It began with Baggott travelling to Northern Ireland, where some epic negotiating saw him drive away from the Charles Hurst car sales city in Belfast – part of Lookers Group plc – in a Lexus LS430, worth £3,500, for a one-off payment of just £100. Bargain!
He then visited Perrys' Used Car Centre in Preston, where he traded in the Lexus for a 1.6-litre Vauxhall Astra Turbo with a CAP Clean value of £4,300.
From there it was on to Carshop's huge site in Northampton, where his trading skills (and some charitable assistance) saw him drive away in a Peugeot 208 with a guide price of £5,000.
Next came a visit to Jardine's Porsche Centre in East London, where the Pug was replaced by an impressive 56-plate Mercedes-Benz E-Class estate. After a quick spruce-up by smart repair experts Penningtons and on-site valeting company Motorclean, the big Merc was then auctioned at BCA in Blackbushe, where it achieved a fantastic £7,100 under the hammer.
The proceeds of this sale were in turn spent on an Audi A1 at Audi Wimbledon – part of Marshall Motor Group – which was then sold on at another BCA auction for £8,450.
After this, one final deal saw Baggott use that cash to buy from Snows Group's Too Good To Auction site in Southampton a BMW 325d M Sport estimated to be worth more than £10,500 retail.
This was sold by Knights BMW in Stafford, part of the Lookers Group, raising a fantastic £11,000 for Great Ormond Street.
The amount was boosted to £14,209, thanks to the generosity of guests who made donations to the cause at December's Used Car Awards.
MORE: New cars could face four-year MOT exemption
MORE: Second test-drive car-jacking leaves salesman shaken
MORE: White remains UK's favourite new car colour
On SuperUnleaded.com: Woman Enjoys Late-Night Ride On Roof Of SUV