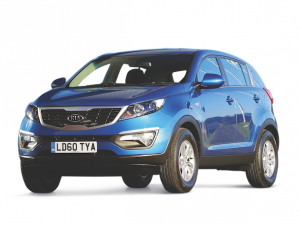 We help you choose the best stock for your forecourt. This month, the Kia a Sportage is the model in the spotlight.
What is it?
It's arguably the car that has done the most to change Kia's image among the public in the UK. While the Cee'd hatchback was the car that began the long road to public acceptance, thanks to it being the first Kia to be graced with the firm's much-vaunted seven-year warranty, the Sportage was proof that the Koreans understood the desires of European car buyers.
And that was as a result of Peter Schreyer. The Sportage was one of the German designer's first projects, and his appointment marked Kia's understanding that to get Europeans to buy their cars, Kia needed to get a European to design them. The Sportage was one of the first Kias to be designed from the outset to carry the now-familiar corporate front-end treatment (called Tiger).

Sportage arrived in 2010 initially as a 'First Edition' – and dealers were deluged with interest. A 16-strong model-line debuted in 2011 with three trim levels: 1, 2 and 3 with four-wheel-drive models badged KX2 and KX3.
What can go wrong?
Since it arrived on the market four years ago, the Sportage has been reliable, with few complaints from owners. It has fared well in customer satisfaction surveys and has a strong reputation. However, the Sportage was part of a massive recall that hit the company earlier this year.
More than 5,787 Sportages were recalled because of a faulty piston within the seat-belt pre-tensioner mechanism, and it affected models built between October 2011 and November 2012.
Luckily, no injuries were recorded because of the fault, and it was a simple fix that took between one and two hours.

Other than the recall, the Sportage has a good reputation. Dealers should look out for peeling lacquer on the eye-catching (and very desirable) black and polished 18-inch alloys. Meanwhile, some owners have complained about the cruise control not working on some cars fitted with the 1.7-litre diesel engine.
Overall, dealers should be trying not to buy a car that has bodywork damage – telltale signs that a Sportage has led a hard life with a family. It goes to say that buying such a car will undoubtedly affect its desirability for the next customer, especially on such a stylish car as the Kia Sportage.
What's the perfect Sportage?
Mid- to high-spec models fitted with the 1.7-litre diesel and two-wheel-drive are the most desirable among buyers, as they are packed full of kit and look good thanks to bling features such as 18-inch polished alloys. Sat-nav, leather upholstery, electric sunroof and dual climate control are much-sought-after gadgets too. Colour-wise, Sportages look great in bright copper, blue, black and, of course, white.