IT'S always good, we are told, to be down wiv ya yoof. To be able to communicate with them on their level.
So Chevrolet have done just that. They have put out a press release before the launch of 2016 Chevrolet Cruze… in emoji.
Yup, those stupid little symbols on text messages now comprise a whole press release.

Here it is…..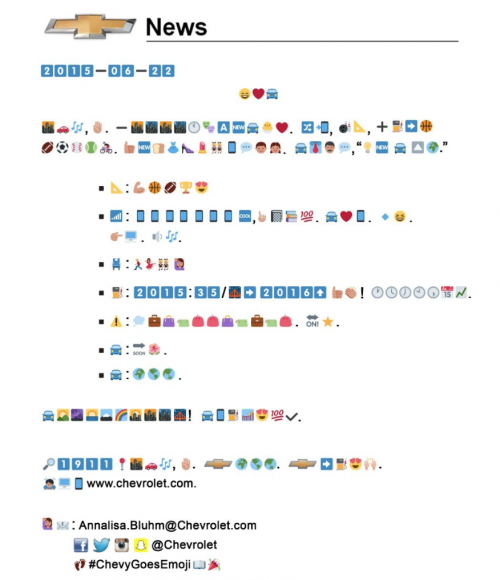 Chevy are asking people to try to decode it.
Okay, this is happening in America, and they do funny things out there. Not that there's much point putting out a press release for the poor old Chevvy in the UK – General Motors is pulling the Chevrolet brand from Europe by the end of the year to focus its resources on the Opel and Vauxhall brands. But still, as ideas go, it's hardly up there with Bill Gates…
We tried reading it, as we're a youthful lot here at Car Dealer. Okay, we get the heart (love). But the rest of it, in our opinion, is a load of old…

MORE: Hurry… more than half the places for Bangers4Ben 2015 are already taken
MORE: RAC Cars reaches 200,000 milestone
MORE: 40 per cent of trade buyers bid on vehicles 'out-of-hours'
MORE: James May to present a BBC programme about cars – but it's not what you think…
On superunleaded.com – Racer Hits Ejector Button As Bike Catches Fire Mid Race