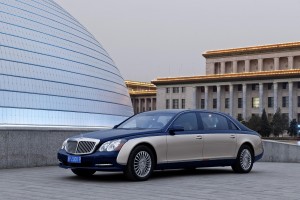 MONEY lost by British motorists in car value depreciation ranged from around £4,000 to nearly £200,000 over the past three years, according to newly revealed figures.
Independent car cost experts CAP Automotive identified every type of car sold new in July 2011 and calculated their secondhand value in today's market, with 60,000 miles on the clock.
Its figures reveal that motorists driving a Kia Picanto special edition Spice model have lost the least money of all, with typical depreciation of £4,135.

In contrast, anyone who chose a Maybach 62 saloon three years ago now stands to lose an average of £189,785 if they sell or trade it in. In other words, one Maybach lost more money than nearly 50 Picantos.
CAP revealed the depreciation of 12,160 different car models to demonstrate that the money lost by most cars is an inevitable cost for motorists.
But the company says that smarter research before purchasing can save the typical motorist thousands over their time of car ownership.
'We deliberately contrasted the depreciation performance of a popular small runabout with an exclusive and uber-luxurious limousine to illustrate the point that not all cars will lose you the same money,' said Philip Nothard, CAP's retail and consumer car expert.'

'Looking at the small family car segment, the least depreciating car over the last three years was the Kia Pro Cee'd Strike special edition, which lost an average £6,405.  But the 20 heaviest depreciating cars in the same sector lost between £18,000 and £20,300,' said Nothard. 'It's the same story in every vehicle sector – the lesson being that careful research up front can save a lot of money a few years down the line.
'Take the Fiesta/Corsa size 'B' segment.  Here the winner is the Perodua Myvi hatchback, with depreciation over the past three years averaging £4,580.  Many would argue that the very basic and unrefined Perodua should not be compared with more popular and sophisticated cars such as Ford Fiesta or Volkswagen Polo.
'But the fact remains that even within this segment of cars major differences in depreciation can save – or lose – drivers very significant sums over the period of ownership.'
Size matters
CAP said the numbers get larger as the size of car increases, while 'eye-watering' figures are reserved for car segments in which tight family budgets are bottom of the list of considerations for buyers.
Among the 19 cars classed by CAP as 'Luxury Executive', depreciation over the past three years ranged from the 6.0-litre Maybach's colossal £189,785 to the best-depreciation-in-class Bentley Continental GT Coupe 6.0 W12 which 'only' lost £74,800.
Nothard added: 'These are all real world depreciation figures that we have observed in the marketplace, not theoretical notions about the costs of owning cars.
'Our measure of the value lost by more than twelve thousand different models proves that while depreciation might be a fact of life,  not all cars depreciate the same and motorists really do have the power to limit their exposure to it.
'Depreciation used to be a mystery to ordinary people but the advent of trusted advice services like the valuation and motoring cost calculators on cap.co.uk means anyone can find out which cars will lose them the most or least money before they commit to buying.'