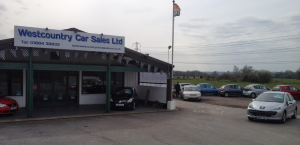 A CAR salesman in Devon has agreed to remove bunting from his property after complaints from local councillors about the appearance of his dealership.
Reg Payne, owner of West Country Car Sales, was asked to remove the decorative flags from his dealership because it could be distracting for passing motorists.
The issue arose when Payne applied to expand his premises on Willand Road, near Cullompton, Devon. At the planning meeting, councillors opposing the application explained that their biggest concern was the appearance of the site.

Planning chairman of Willand Parish Council, Councillor Barry Warren, said that there is a 'kaleidoscope' of different coloured cars on the site and that he was concerned about the visual impact of the dealership on the surrounding area.
Councillor Diane Brandon stated that there are often more than 100 cars on the site and suggested that a limit should be imposed. Payne argued that to make his business viable he needed to sell six cars a week.
Payne described the complaints as 'absolutely ridiculous' and added: 'I'm doing nothing other than trying to make a living here.'
The bunting is expected to be taken down shortly but councillors are divided on the outcome of the planning application.