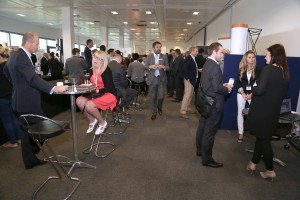 WE make no apology for returning to the subject of this year's Car Dealer Conference, held at Rockingham Motor Speedway on Friday, June 20.
It has been comprehensively hailed as a resounding success by dealers, exhibitors and speakers alike.
And in case you're thinking, 'well, they would say that, wouldn't they?' we can provide some impressive pictorial proof.

The photos from the day have now arrived at Car Dealer Towers and can be viewed either on Flickr or Facebook. They speak for themselves, with a busy expo area packed with delegates and exhibitors and an attentive audience listening to our compelling speakers in the conference hall.
Feel free to use, share, and distribute as you see fit. The shots certainly demonstrate why Car Dealer's events are regularly becoming must-attend functions in the automotive calendar, with a fresh, innovative feel, an atmosphere that's friendly and welcoming, and speakers and exhibitors from the top tier of the automotive world.
We're already working on plans for next year's conference, so watch this space!
Conference Flickr pics: CLICK HERE
Conference Facebook pics: CLICK HERE