Car dealers are getting used to life back at work under a whole new set of rules – but many are realising there are now big changes to the way they do business.  
Not only are there a whole set of Covid-19 Secure regulations to follow, there's now unaccompanied test drives to consider and more people than ever before buying online.
Car dealers we've spoken to as part of our Car Dealer Live series have all said the changes they have made to their businesses have been far reaching.

One dealer group boss – who didn't want to be named – said: 'Some of our businesses, although in the same showrooms with much of the same staff, look and feel very different now. Not in a bad way, but a new way – and it's something we've all got to get used to.'
Marc Robinson, of eBay Motors Group, said showrooms have been 'reshaped' and dealers are having to get used to operating in a different way to before.
He said: 'The Covid-19 crisis has heralded far-reaching changes which have reshaped the way showrooms operate to adhere to social distancing measures and hygiene standards to safeguard customers and colleagues. 
'Consequently, car retailers are now operating in a very different environment where reduced footfall is part of this new norm as customers go online, not just to research, but to conduct more of the transaction process.'

Sales staff are being forced to learn how to build rapport in different ways too. 
Face to face meetings and walk in customers are becoming a thing of the past as sales people master the art of interacting via video calls instead.
Robinson added: 'For many dealers this will be a challenge as sales staff typically thrive on building relationships with customers through face-to-face interaction.'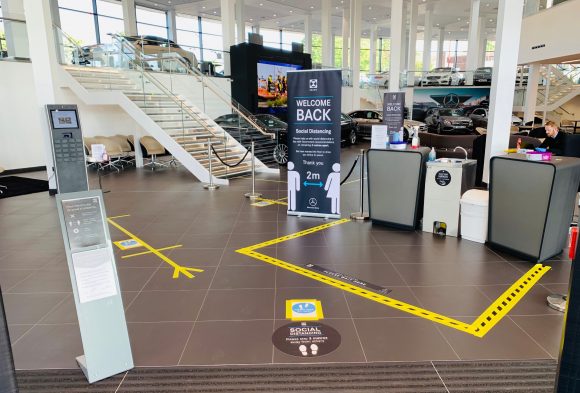 Chris Wiseman, managing director of Wessex Garages, admitted that his dealerships were changing fast following the pandemic.
He told Car Dealer: 'Like most businesses we are making changes to the way we operate and communicate with customers and this has included some minor restructuring to businesses that were previously underperforming.  
'We find customers in both sales and aftersales are more than happy with the system of more structured appointments and that means we have more time to spend. 
'However, in contrast, customers want to spend less time physically in the showroom environment and this leads to concerns over the ability to sell additional products.'
He said despite many in the trade focussing heavily on an online solution, Wessex Garages wants to ensure customers still have a choice.
Wiseman added: 'Our focus has been on creating an online department to quickly ascertain which buying channel the customer wants to take and guide them through the process rather than force down a full online route which may not be in the customers' best interests.'
Lawgistics solicitor Nona Bowkis is taking calls from car dealers on a daily basis and told us she's hearing the biggest changes appear to be around employment and compliance.
'Lots of dealers are restructuring and taking the opportunity to get everything in order whether that be working out how to deliver the same level of service with less staff or better use of technology,' she told us.
Bowkis said she understands no one likes making redundancies, but said it must be done correctly to avoid expensive tribunals.
She added: 'We have seen a huge increase in the number of our members logging into their HR Manager accounts to utilise our employment templates not just around redundancy but also to amend employment contracts and write new policies.'
With online sales and remote deals comes Distance Selling regulation complications and Lawgistics have seen a number of enquiries from dealers around these changes too.
Bowkis said: 'Dealers can reduce costs by issuing the correct legal paperwork to prevent the customer from having the ability to simply return the vehicle a year after the sale. 
'Dealers should also ensure that they advised customers that it is their responsibility to return the car in the event of a refund. 
'The devil is very often in the detail, so get it right.'
Hendy Group chief executive Paul Hendy has certainly found that the changes to his business have been coming thick and fast since the return to business on June 1.
He told Car Dealer: 'It has been remarkable that as each week has passed, and we have become more adept and experienced at working with the new protocols, in tandem with the customers understanding and accepting of the changes, how business is being conducted in a really positive and energised way – and with a can-do spirit.'
Car dealers have not only had to adapt to new business practices, but are also finding they're having to deal with increased demand from buyers with less staff.
Many dealerships still have staff on furlough but are dealing with a rush of buyers – especially in used car departments.
Three car dealers we spoke to this week all said they were on course for a record June. 
One said he was on course for his best June in three years, another said he will make a record profit for the month, while Peter Waddell of Big Motoring World said he'd record his 'best ever' June. 
Dealers are struggling to get hold of stock at sensible prices with some cars going for thousands of pounds over their usual prices.
Derren Martin, of Cap HPI, said: 'Dealers have had to cope with both shortages and rising prices in the trade, so difficulties replacing stock and at an attractive price have sometimes been difficult. 
'Many have increased retail prices too, to maintain their margins. A change for franchised dealers has been less focus on new cars and more on used – allowing more of a profit opportunity.'
He explained that dealers have also had to get used to auction houses not delivering their stock quite as quickly as they would have hoped. 
Many auction houses are struggling to get their vehicle movements and logistics teams up to speed – hampered, in particular, by social distancing.
Rupert Pontin, of valuations firm Cazana, feels the biggest changes car dealers he has spoken to have dealt with fall into three camps: Unaccompanied test drives, appointment based sales and completely overhauling the way they clean cars.
He said: 'The test drive has now become unaccompanied and this has helped retail consumers feel less pressured whilst driving and also given them the chance to fully appreciate the car. 
'They also have the opportunity to discuss how they feel about the vehicle without anyone with them or watching over them. So whilst more risky, this has facilitated a swifter, less pressured sales environment.'
The changes may have been wide ranging, but from what we've seen the industry has adapted in double quick time. There's nothing quite like a crisis to accelerate change and the motor trade has certainly seen just that over the past three months.