THE pros and cons of staying in the EU were debated on the live stage at CDX yesterday.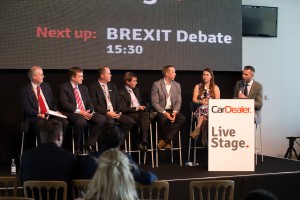 Mike Jones, chairman of ASE, Nathan Coe, operations director at Auto Trader, and Rupert Pontin, head of valuations at Glass's, joined Andrew Fraser of the Britain Stronger in Europe campaign, and Nigel Griffiths of Leave.EU, to engage in a lively discussion on the issue.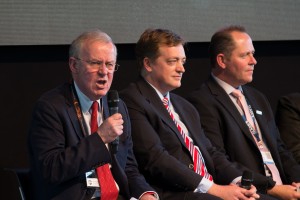 Commenting on the importance of the UK's role in the European Union, Fraser said: 'Let's not break up a fantastic success story in Britain.

'The regeneration of the car industry over the past 30 years has been led by foreign investors.
'I speak from personal experience; I was never in a meeting with any of those foreign investors or their suppliers without them talking of the importance of the single market.
'Remember, only 40 per cent of the content of British cars is made in Britain and that is growing. The most positive factor is that we don't disrupt politically, economically, socially and culturally a working market place in which we have an inextricable role to play.'
He added: 'We've consistently attracted more investment from around the world into Europe than any other country. We are an open, liberal, tolerant country – that's the sort of country I want my grandchildren to grow up in.

'Did you know that 6.8 per cent of our workforce come from the European Union? And aren't we lucky – 100,000 of them support the National Health Service and social care. Do you want to send them home? We are part of solving the problems, we are not isolationists. Let us not go back to the old ways.'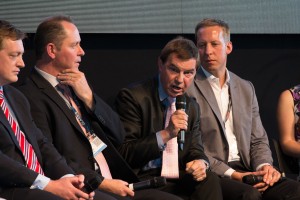 In response to Fraser's speech, Griffiths said: 'I think the positives of leaving the EU are very clear. We can decide what rules our Parliament makes and how they are enforced. It's a myth to think that you can't train or invest across Europe in the single market – there are 109 countries who are already doing it.'
Pontin added: 'We know that consumer confidence has slipped slightly and I expect that whatever happens, we will have a period before the referendum over the next four weeks where things will be quieter, the referendum will happen, we'll either Brexit or we won't.
'There will be a bounce back. Interestingly, when you talk about the degree of that bounce back, that's the really difficult thing to answer and I'm not sure that any of us here can say with any certainty what will happen. In terms of used car activity, values are likely to suffer a little, but if there is good consumer demand, then don't expect the values to come down too much.'
More on the debate will be published in Issue 100 of Car Dealer Magazine.
In the meantime, check out the links below to find out what else happened at CDX16!
MORE: CDX in pictures: What a day… with more than 2,000 delegates through the doors
MORE: Our top 10 tweets from the biggest and best CDX yet!
MORE: Full list of the 140 Most Influential Dealers on Twitter 2016, as announced at CDX