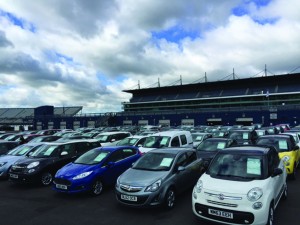 CITY Auction Group is heralding its first fortnightly auction at Rockingham in mid-April a huge success, with the firm selling 300 vehicles, with a total value of £2.3 million.
City Auction Group says its data from the auction shows 75 per cent of vehicles sold at more than 98 per cent of CAP and that ex-daily rental vehicles performed exceptionally well. Demand was strong for 14 plate, small to mid-range vehicles with an average of 20,000 miles.
The top-five best performing vehicles were:

Corsa Hatchback achieving the highest CAP value (122.4 per cent),
BMW Saloon (113 per cent),
Vauxhall Insignia (110.7 per cent),
Renault Kangoo Maxi (110.4 per cent)
Renault Twingo Pzaz (109.3 per cent).
It is worth noting, says City Auction Group, that small vans did very well, with the Renault Kangoo variants appearing twice in the top ten CAP clean list, with the Renault Kangoo Maxi L121 achieving 110.4 per cent and the Renault Kangoo ML19 achieving 107.2 per cent.
Michael Tomalin, managing director of City Auction Group, said: 'The market has cooled off after Easter with demand dropping in line with seasonal norms. The market has changed a little this month.  We have seen an increase in demand for vans, as well as one to three year old vehicles across small to medium segments, with average mileage.
'Interestingly the Fiat 500, a hugely-popular car, achieved only 104.4 per cent and was beaten by the Vauxhall Corsa, recording the top CAP value at 122.3 per cent. A surprise entrant in the top 20 best-performing vehicles was the Alfa Romeo Lusso Estate, which achieved a CAP value of 108 per cent.'
 MORE: Carcraft closes down as 500 people lose their jobs

MORE: Picasso is the best car to have on your forecourt…
MORE: Line-up for conference's Manufacturer Q&A panel is revealed
MORE: Advice and guidance from the IGA at Car Dealer Conference & Automotive Expo
MORE: FREE legal advice from Lawgistics at Car Dealer Conference & Automotive Expo #CDX15