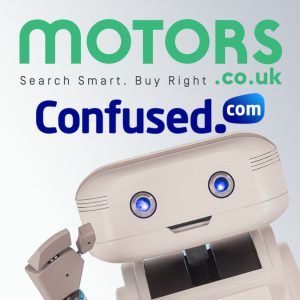 PRICE comparison giant Confused.com has partnered with Motors.co.uk to make it easier for people to compare the best car-buying options.
Motors.co.uk will provide dealer used-car stock as part of the Motors.co.uk network, while Confused.com will provide car shoppers with visibility of the key costs involved in owning and running a car.
The partnership will see Motors.co.uk promote Confused.com as its exclusive car insurance partner, enabling a more informed search solution within the millions of used-vehicle searches completed on the site each week.

The car-comparison site will mark the fourth network addition by Manheim-owned Motors.co.uk in just 12 months, following exclusive partnership deals with Preloved, the Carsite network, News UK-owned Sun Motors and The Sunday Times Driving.
Andy Coulthurst, managing director of Motors.co.uk, said: 'The partnership with Confused.com allows us to further extend the exposure of our dealers' used-car stock, as well as giving busy car shoppers on Motors.co.uk the flexibility of sourcing both the car and insurance quote quickly in one place.
'Delivering significant benefits for our advertisers, we believe this relationship is a perfect strategic fit in terms of providing the widest exposure for our dealers' stock across multiple websites at different stages of the consumer-buying process. We know modern consumers hunt down their ideal car across numerous sites and we're determined to ensure that wherever car buyers turn, our dealers' stock is there.'
Martin Coriat, CEO of Confused.com, adds: 'Here at Confused.com we are always looking for initiatives that will help us to better serve customers. We know that buying a car is a major life purchase, second only to buying a house, so we want to make sure people have all the information they need to make the best choice possible.

'We're committed to helping people find the best deal on their insurance and the car they're looking to purchase – or even sell. Our brand ethos is to save people time and money, and we think this new platform will do just that.'
The new network partnership has been welcomed by dealers, with Ian Godbold, marketing and CRM director at Cambria, saying: 'It is clear the Motors.co.uk network strategy is firmly focused on helping dealers like Cambria sell more cars. We benefited right across 2014 from additional leads driven from the Motors.co.uk Carfuffle TV campaign and the addition of the Carsite network.
'We look forward to this driving even more guests to our forecourts and showrooms.'
MORE: Download issue 87 of Car Dealer Magazine FREE to your iPad
MORE: Audi cars prove to be the fastest selling on Auto Trader
MORE: Car Dealer Conference and Expo is a record-breaker!
MORE: Wessex Garages helps Bron Afon with 100 per cent electric van
On superunleaded.com – Idiots Lip Sync With Selfie Stick, Have Stupid Crash