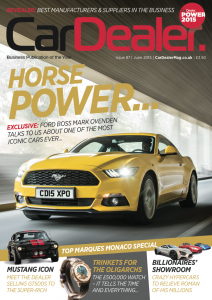 THE latest issue of Car Dealer Magazine – which comes with comprehensive coverage of this year's Power awards – is ready to be downloaded to your iPad FREE of charge.
Issue 87 of the Best Business Publication of the Year is packed with not-to-be-missed features, plus the very latest news and views from the automotive industry.
We speak exclusively to Ford of Britain chairman and MD Mark Ovenden about his hopes for the Mustang in Europe – and we also take the car for a spin to give our thoughts on one of the most iconic vehicles in history.

Also in issue 87:
We pop in to the Top Marques Show in Monaco (as you do), go for a drive in a special £170,000 Mustang, and take a look at a few trinkets that only billionaires can afford. Oh, and we drive to Monaco in a Lancia Ypsilon (yes, we really did…)
We see how the Jeep Cherokee copes in the Moroccan desert.
We look at all the winners in the Car Dealer Power awards – and break down all the scores to find out which manufacturers dealers enjoy working with… and which ones fall below expectations.
And we provide an update on our 2015 Conference and Automotive Expo, to be held on June 9 at Silverstone. (And get your FREE tickets here!)
With the usual entertaining mix of news, views and features – plus another invaluable helping of legal advice from our friends at Lawgistics – issue 87 of Car Dealer is not to be missed!
The iPad app is completely FREE to download and subscribe to.
MORE: Audi cars prove to be the fastest selling on Auto Trader

MORE: Car Dealer Conference and Expo is a record-breaker!
MORE: Wessex Garages helps Bron Afon with 100 per cent electric van