TEAMWORK makes the dream work. That's how the saying goes – and Trade Price Cars proved it when it lifted the trophy for Used Car Sales Team of the Year at last year's Car Dealer Used Car Awards.
How a team works together to do the best for their business but also their customers is vitally important to a respected and profitable operation. In this category, we were looking for a team that made the process seamless and easy for customers while efficiently working together, and the Essex-based dealership, which was formed in 2009, was the outright winner as far as the judges were concerned.
It has a large site in Wickford with a large team but it still responded to an inquiry from one of our mystery shoppers in just two minutes. All of the information was given up front and the dealership received maximum points throughout the process – an incredible feat.

Owner Dan Kirby took time out yesterday to speak to us about the importance of the awards and why dealers really need to enter for them.
He told how much the Trade Price Cars team enjoyed themselves at the event, saying: 'It's brilliant, really good. It's well organised, glitzy, glamorous, with lots of people there and a good atmosphere. I'd definitely recommend it.'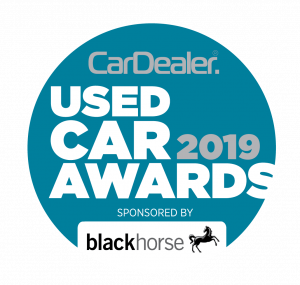 Describing the moment when Trade Price Cars found out it had been voted top in the category, Kirby said: 'It was a proud achievement. It's nice to be recognised for doing a good job.'
The triumph saw increased interest in the company, benefiting the business. 'It definitely helped us gain traction in terms of inquiry levels and obviously gave us some credibility,' said Kirby. 'We could use it on our website, all those sorts of things, so it's definitely beneficial to enter – and if you win, then great!

'It shows customers you're a trusted brand and obviously you're a leader and an award winner in what you do – arguably the best or recognised as one of the best in your field.'
Kirby said the Wickford dealership would be looking to add to its trophy total at this year's event – which is being held at The Brewery in London on Monday, November 25, with Mike Brewer hosting once again – and he had this emphatic message for dealers who were thinking of entering for it… 'I'd say it's well worth doing. It's well worth doing to put your company in a position to be able to win it.'
The Car Dealer Used Car Awards really are the awards that count. The deadline for nominations is Monday, October 14, so…
Pictured at last year's ceremony are the triumphant Trade Price Cars team on stage with Neil Hodson, far left, chief executive of category sponsor Aston Barclay Vehicle Remarketing, and Mike Brewer
MORE: 'The best awards we've ever been to!' Why YOU need to get your entries in for Car Dealer's Used Car Awards