A car dealer has told how a customer arrived at his dealership with a completely shredded tyre that had been described merely as a 'knocking noise'.
The Vauxhall Zafira driver had not spotted the wheel had barely had any rubber left on it at all and drove the car to the dealership for inspection.
In a tweet, Smallbone & Son Cars, based in Birmingham, revealed pictures of the shocking wheel after the customer had driven in.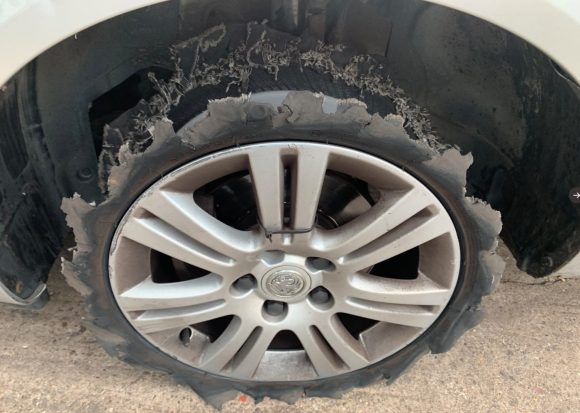 Director Martin Smallbone told Car Dealer: 'I felt compelled to post this as my team and I were completely shocked and horrified, and by all accounts hundreds of twitter users were too.
'We received a phone call from a customer at 8.15am yesterday morning concerned about a knocking noise coming from the passenger side front of their Vauxhall Zafira which had got progressively worse since dropping off their daughter to work 15 mins earlier. 
'When it rolled up on the forecourt I'm not joking when I say every member of staff was open mouthed and completely aghast.
'We have never seen anything like it.'
Smallbone said he asked the customer if they'd thought to stop and check what the problem was.
He added: 'The customer said two lights did come on, but they didn't think of stopping. 

'Some people have said I should have reported this to the police and yes it was incredibly stupid not to stop and very irresponsible, but the person was absolutely horrified and very upset in their stupidity and neglect.
'I reinforced to them to just stop and check in future. Needless to say we checked the three other tyres to be on the safe side.'
Smallbone – who won the Used Car Dealership of the Year at last year's Used Car Awards – said they'd been incredibly busy since coming out of lockdown and haven't found the time for social media recently.
He added: 'We have never had a tweet that's gone viral like this one and it's been quite a distraction today I can assure you.'