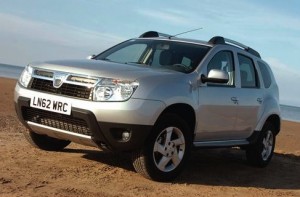 THE Dacia Duster has reached the landmark of one million vehicles produced worldwide since its launch only four years ago.
The Duster has emerged as one of Renault's best selling models. It is branded as Dacia or Renault but the Dacia-badged version has proved just as popular.
The SUV is currently marketed in more than 100 countries and has been a great asset to Renault Group's international growth.
The Duster is currently assembled in five factories but the millionth vehicle will be made and sold in Brazil.
Worldwide Duster sales have continued to grow in 2013 to reach more than 376,000 units for the year.
Arnaud Deboeuf, the Renault group's entry programme director, said: 'With Renault branding, it perfectly meets the demands of our international customers and is contributing to Renault's expansion in emerging markets.
'At the same time, the Dacia-badged version sold in Europe and our Mediterranean Basin markets has succeeded in attracting a new clientele to the brand thanks to the styling and genuine all-terrain capability it delivers for an affordable price. Duster is definitely a model that is winning us new customers.'