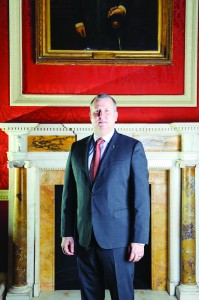 RENAULT chief Ken Ramirez believes dealers have a long way to go to catch up with the digital revolution that is changing the way customers do business.
In an exclusive interview with Car Dealer, Ramirez – who is managing director and responsible for Renault and Dacia in the UK, Ireland, Malta and Cyprus – says the automotive industry needs to play catch-up… and quickly.
He was speaking as part of the our Automotive Influencers feature, when every year we bring together some of the biggest names in the industry to discuss their hopes and fears for the coming year.

The feature – which will be published in Issue 83 and comes out in January – has opinions from car manufacturer bosses, dealer group chiefs, trade suppliers and industry thought provokers.
Ramirez, basking in 20 successive months of growth which he says makes Renault 2014's fastest-growing franchise, says: 'Being able to keep up with the digital revolution is key.
'Customers now expect instant online interaction with brands, right through the ownership cycle. And online now encompasses much more than a website; it includes social media and the ability to access content across multiple devices, from PCs to mobile phones and tablets.
'The growth of online retail sales has also seen real-time logistics tracking become the norm for parcel deliveries, and consumers now expect similar visibility of new-car deliveries and vehicle servicing progress. The challenge for our industry is to ensure we continue to develop and invest in technology to meet consumers' growing expectations, both inside and outside of the physical showroom.'

The full feature can be read in the next issue of Car Dealer. Subscribe viaCarDealerClub.com or download our free iPad issue here.
MORE: Google warns dealers need to be wary of mobile tipping point
MORE: 'Twas the night before Christmas…. a rhyming festive treat