NEW CAR sales in western Europe fell by six per cent in March, according to market analysis provider LMC Automotive.
The company's latest data suggests that the regional selling rate was down last month, from 14.9m units per year in February to 14.1m units per year in March.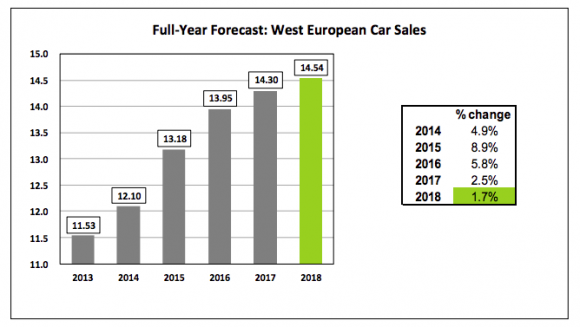 Although the UK saw the most significant fall, with sales down 15.7 per cent year-on-year, Germany also saw a drop of 3.4 per cent, with its selling rate decreasing from 3.7m to 3.4m units per year.

Some countries had a better month, with France making gains of 2.2 per cent and Spain 2.1 per cent, but Italy had a harder time with a 5.8 per cent fall.
LMC forecasts an overall slowdown of 1/7 per cent for the European market in 2018, as it predicts that the UK will not be able to make up for its first quarter losses and that German sales will continue to slow down.
The company pointed out that the UK lost one selling day and Spain lost two because of Easter, but said this was not enough to cause the level of collapse seen.
It also backed up the UK-specific reasons for the fall we've already heard from industry figures, such as changes to vehicle excise duty and challenging economic conditions.

LMC said: 'March is the most important month of the year in the UK market – closely followed by September – as new registration plates are released, fuelling a spike in sales.
'However, tax changes that came into force in April 2017, which pulled forward sales to March last year, created a very high base effect.
'In addition, challenging economic conditions for UK consumers contributed to the 15.7 per cent year-on-year decrease, which was broadly in line with expectations.'
MORE: Brexit and 'Beast from the East' among reasons for latest drop in UK new car sales, say experts
MORE: Now it's a year of decline as March shows a 15 per cent fall in new car registrations
MORE: Number of cars manufactured in the UK falls again
On WorkshopMagazine.co.uk: Trico appoints new project introduction engineer and credit controller