THE SMMT has released the figures for the top 10 best-selling cars of 2017, showing not only which models were popular but also how the volume of vehicles sold for each example has changed since 2016.
Once again, the Ford Fiesta took the top spot, with 94,533 units sold in 2017. However, this pales in comparison to 2016, when a whopping 120,525 new examples of the American supermini were driven away from dealer forecourts, putting it in first place for that year as well.
This decrease could have something to do with the launch of the new-generation Fiesta in 2017, but the trend continues across other models in the top 10 list.
The Volkswagen Golf surged forward, increasing from 69,492 units in 2016 to 74,605 units in 2017, moving it from fourth to second place. The second best-selling car in 2016 was the Vauxhall Corsa, with 77,110 examples sold, but in 2017, the British hatchback fell to fifth place, with 52,772 sales.
The Ford Focus retained its position in third place, although it did see a relatively minor drop in units sold from 70,545 in 2016 to 69,903 in 2017.
The Nissan Qashqai was another example of a model that broke the depressing trend, with the Sunderland-built SUV actually increasing from 62,682 sales in 2016 to 64,216 in 2017, bringing it up from fifth to fourth place.
Sixth, seventh and eighth places were taken by the Vauxhall Astra, Volkswagen Polo and Mini Hatch respectively – the same cars that took those positions last year. However, every one of them saw fewer sales in 2017 than they did in 2016.
Ninth place once again went to the Mercedes-Benz C-Class, which sold 45,912 units in 2017 compared with 44,184 in 2016.
Finally, 2016's 10th place model – the Audi A3, with 43,808 sales – was knocked out in 2017 by the Mercedes-Benz A-Class, with 43,717 units sold.
Mike Hawes, chief executive of the SMMT, said: 'The decline in the new car market is concerning but it's important to remember demand remains at historically high levels. More than 2.5 million people drove away in a new car last year, benefiting from the latest, safest, cleanest and most fuel-efficient technology.
'Falling business and consumer confidence is undoubtedly taking a toll, however, and confusing anti-diesel messages have caused many to hesitate before buying a new low-emission diesel car. Keeping older vehicles on the road will not only mean higher running costs but will hold back progress towards our environmental goals.
'Consumers should be encouraged to buy the right car for their lifestyle and driving needs irrespective of fuel type – whether that be petrol, electric, hybrid or diesel – as it could save them money.
'2017 has undoubtedly been a very volatile year, and the lacklustre economic growth means that we expect a further weakening in the market for 2018. The upside for consumers, however, is some very, very competitive deals.'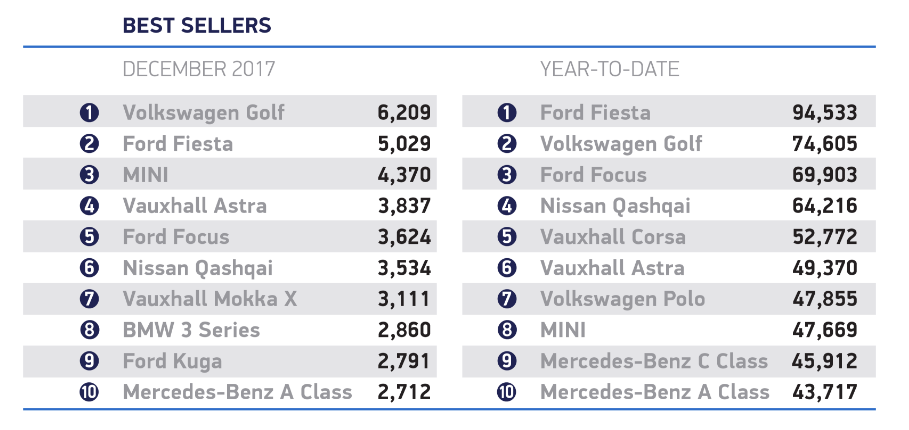 MORE: UK new car market drops for the first time in six years to 2.54 million
MORE: Brexit deal 'must be clear by April if the UK car industry is to remain competitive'
MORE: Who were 2017's biggest losers in the UK automotive industry?
On WorkshopMagazine.com: Workshop Jobs goes live! Find your new role today