Bentley's new model becomes its fastest production car ever. James Batchelor tested it on a snowy Thruxton racing circuit.
What is it?
Bentley's new range-topping model has been created due to customer demand. It would seem a number of people with lots of ready cash to flash have asked the Crewe-based firm for something with more shove and drama. And this is it – the fastest production Bentley ever.
What's under the bonnet?
It's the same engine that's found in the standard Continental GT W12, but this has been vigorously reworked to throw out 616bhp. The hand-built, twin-turbocharged lump is mated to a four-wheel-drive system and can top 205mph.

There's a new eight-speed ZF gearbox to make the posh rocket as enjoyable and economical to drive. Combined mpg is a surprising 19.5 (the Continental GT V8 returns 26.7mpg; the Continental GT W12 – the same 19.5mpg) and CO2 emissions are 338g/km.
What's the spec like?
Speed owners get the Mulliner Driving Specification as standard, which includes such treats as diamond-quilted leather, a knurled gearknob and drilled aluminium pedals. The Speed costs £151k – that's around £15k more than the standard W12 Continental GT, and that's before the customer has even looked at the options list. Our test car retailed at a steep £173k!
What's it like to drive?
It's glorious. GT Speeds also have a new free-breathing exhaust which, when Sport mode is selected, turns the normally serene Bentley into a hot rod. The noise emitted from the exhaust is biblical and on overrun, pops and crackles.
The steering is heavy and direct, while the brake pedal has a pleasing amount of feel through it. The power is unrelenting and spectacularly linear, but it does feel nose-heavy during fast cornering. Also, the ride is stiff even in the most comfortable setting, and on some roads the car sometimes feels fidgety. Happily though, the interior is as cosseting as you'd expect a modern Bentley to be, blending technology and heritage in an impressive way.

What do the press think of it?
Autocar said: 'While you can't blame the company for trying to give its customers what they want, we'd be much more interested in seeing a Speed or Supersports version of the V8'.
What do we think of it?
The GT Speed only exists because a number of wealthy owners want the very best Bentley regardless of cost. To us mere mortals, the £26k cheaper Continental GT V8 ticks all the right boxes, but we all know that the Speed will be hugely popular just because it is the fastest.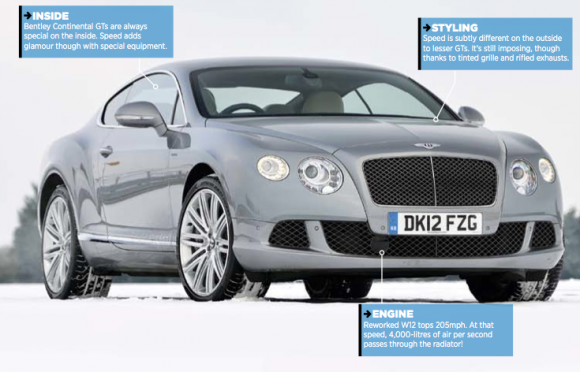 Have you filled in our Car Dealer Power survey yet? It's a great opportunity to have your say, and you could win one of seven great prizes! Click here to enter.