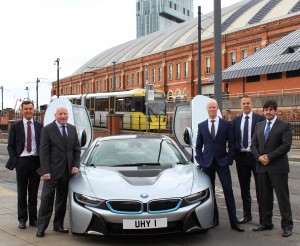 LEE COLLINS, the man who led an MBO of Hillendale Land Rover and turned it into a multi-million-pound company, has joined UHY Hacker Young.
Initially working in the Prestons Group, Collins worked his way up to managing director and successfully completed an MBO of the Hillendale Land Rover business in 2006.
In 2013 he acquired Jaguar Bolton and within 11 weeks had moved the customer service ranking from 95th to 1st nationally. He also created and ran his own marketing company, Imagered, between 2000 and 2014 and has considerable marketing experience.

He subsequently sold the group to Vertu in a multi-million-pound deal in 2014.
UHY Hacker Young has added Collins its automotive sector team in Manchester. With a growing national sector team already, Collins will add significant experience & expertise to its Manchester office offering, joining up with David Kendrick, Paul Daly and Matthew Hodgson.
He joins UHY as director of management consultancy. Using his diverse experience as a retailer and eight years' experience as regional JLR dealer cabinet chairman and JLR UK cabinet member, he will focus on assisting dealers with customer service, enquiry management, best practice, sales performance and profitability.
Collins said: 'I am delighted to have joined UHY Hacker Young and I'm excited about the prospect of working with this highly-respected and experienced team in Manchester. My focus will be adding value to the existing client base as well as working with dealers and manufacturers to assist with improved profitability, customer experience and best practice.'

David Kendrick, partner at UHY Hacker Young, said: 'After joining UHY Hacker Young 12 months ago, we have been flattered by the response, support and interest from the industry. Lee joining the team gives us a completely new skill set which we believe will enhance our service offering to dealers and manufacturers.'
Mike Wasinski, managing partner at UHY Hacker Young, said:'The appointment of Lee takes us from an essentially accounts-based offering to a much broader spectrum of advice. With his vast range of experience and skills, we believe this will bring a valuable new service line to the practice.'
Pictured are Paul Daly, Mike Wasinski, Matthew Hodgson, David Kendrick and Lee Collins.
MORE: Why no-one can afford to miss the Car Dealer Conference & Expo
MORE: Motorline buys Maserati dealership from Arrow
MORE: Mill Garages celebrating 50 years of selling Volvos
On superunleaded.com – McLaren Unveils Its New Baby 570S Supercar