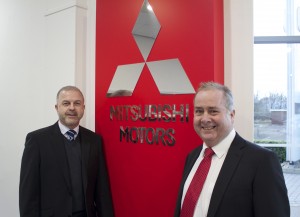 GILDER Group is set to open two new Mitsubishi dealerships as the franchise continues to grow in the UK.
Gilder Mitsubishi will be based at the group's existing sites in Rotherham and Chesterfield, meaning 20 new Mitsubishi dealerships have opened since the start of last year.
The Rotherham dealership, based at the Mushroom Garage in Doncaster Road, opened on January 27 with the Chesterfield dealership, at Tapton Lock, due to open on February 17.

Gilder Group is a family-run dealership group that was first formed in Sheffield by William Gilder in 1938. The business is well established in Rotherham and Chesterfield and supports Rotherham Hospice and Ashgate Hospice.
Darren Stolz, sales manager at Gilder Mitsubishi Rotherham, said: 'Gilder Group has been going for more than 70 years now and we are confident our excellent reputation, together with Mitsubishi's fantastic range of vehicles, will make this a successful partnership. This is a very exciting time for everyone at Gilder and we are really looking forward to opening with Mitsubishi.'
Gilder Group employs more than 70 people across the company. A temporary showroom is currently being built at the Chesterfield site with plans for a new showroom to be built later this year.
Dan Wheeldon, sales manager at Gilder Mitsubishi Chesterfield, said: 'Customer service is the mainstay of our business – that's why we have been able to keep going so long – and we know that's something that is very important to Mitsubishi. Our temporary showroom is going up now and we have exciting plans for a new showroom to come.'

Gilder Mitsubishi joins the growing brand at an exciting time. Mitsubishi Motors in the UK was one of 2014's strongest performers, according to year-end sales results released by the Society of Motor Manufacturers and Traders (SMMT).
The company saw sales growth in passenger cars of 75 per cent compared with the previous year, against an overall market up by 9.3 per cent.
Building on this success and with a strong line-up of new product introductions over the next 12 months, the company has launched a five-year warranty across all its models, which reflects Mitsubishi's confidence in the quality and reliability of the vehicles.
Lance Bradley, managing director of Mitsubishi Motors in the UK, said: 'We are really pleased Gilder has joined the Mitsubishi family and we wish both dealerships every success. Both teams are well known in the area for delivering excellent customer service, which is something that is vitally important to everyone here at Mitsubishi.'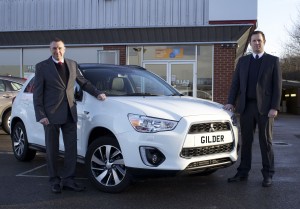 Above: Sales manager Darren Stolz, left, and after-sales manager Chris Pickering
Right: General manager Dave Littlewood and sales manager Dan Wheeldon with a Mitsubishi ASX
MORE: Conference latest: Twitter signs up
MORE: Conference latest: All the details