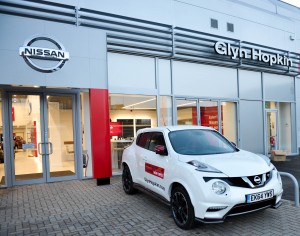 GLYN HOPKIN, the UK's largest volume Nissan dealer group, has officially opened a brand new, purpose-built dealership in East London.
The new showroom replaces the group's existing Nissan Leyton dealership with a brand new dual-purpose Nissan and Fiat outlet.
The new Nissan East London dealership boasts state-of-the-art facilities, including a 15-vehicle showroom capable of showcasing the entire Nissan range. The facility also incorporates a 20-bay workshop – the largest aftersales department in the Glyn Hopkin group – as well as on-site customer parking and an extensive choice of Nissan-approved used vehicles.

Nissan East London is also one of the first dealerships in the UK to feature Nissan's 'New Retail Concept', which features a fresh new visual identity for the interior and exterior of the dealership and incorporates interactive elements to offer customers a premium showroom experience.
Situated on Romford Road, Manor Park, the new purpose-built facility will also represent Fiat from a separate showroom at the same site, expanding the group's partnership with Fiat to eight showrooms. Glyn Hopkin also announced plans in October 2014 for a ninth Fiat showroom at a site in Cambridge, due to open on February 9.
All existing Glyn Hopkin staff employed at the Nissan Leyton facility are transferring to the new East London dealership.
Fraser Cohen, managing director at Glyn Hopkin, said: 'The relocation of our Nissan Leyton operation is a major investment for Glyn Hopkin and represents our commitment to provide our customers with first-rate sales and aftersales services.

'This was an excellent opportunity to develop a state-of-the-art dual-brand Nissan and Fiat dealership, which will strengthen our presence across the region, alongside our showrooms in nearby Romford, Buckhurst Hill and Waltham Abbey.'
MORE: Unveiled: Hyundai's brand new compact SUV
MORE: Celerio: We're getting hourly updates
MORE: What actually happens at a scrapyard?