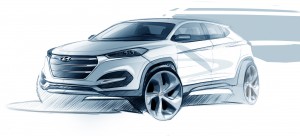 THIS is a dramatic sketch of a new Hyundai compact SUV that will be unveiled at the Geneva Motor Show.
The All-New Tucson has a strong, sporty look. At the front, Hyundai Motor's distinctive chrome-framed hexagonal grille is connected to the headlamp clusters creating a powerful impression.
Commenting on the All-New Tucson, Peter Schreyer, president and chief design officer of Hyundai Motor Group, said: 'Our new compact SUV will be a big step forward for the Hyundai brand globally.

'The All-New Tucson has a bold and athletic presence and a proud stance. Its design is characterised by flowing surfaces, bold proportions, sharp lines and – most important – our brand signature hexagonal grille.'
 With more than one million SUV sales in Europe since the introduction of the first Santa Fe in the early 2000s, Hyundai Motor has established its credibility in the SUV segment.
The public world premiere of the All-New Tucson will take place during Hyundai Motor's press conference at the 2015 Geneva Motor Show on March 3.
MORE: Celerio: UK sales chief talks to Car Dealer