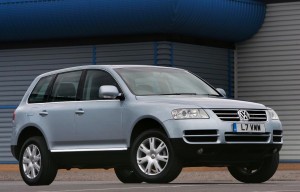 THE Volkswagen Touareg was the fastest used car off the forecourt during January, according to stats compiled by the vehicle valuations experts Glass's.
Vauxhall has both cause for celebration and concern with the Mokka taking second place but, at the other end of the spectrum, the Cascada has become the single most difficult used car to sell. The full list of the 'Glass's hot five' for January is:
Volkswagen Touareg
Vauxhall Mokka
Chevrolet Orlando
Skoda Yeti
Toyota Prius
Rupert Pontin, head of valuations at Glass's, said: 'The Volkswagen Touareg is often underrated but offers fantastic build quality, superb engines, great handling and subtle looks. This is the thinking man's Porsche Cayenne.

'A funky-looking crossover that seems to have captured the hearts of the C Sector buyer looking for something exciting and appealing to the eye, the Vauxhall Mokka is currently doing well.
'Skoda is a brand to watch for 2015 as it begins to become a really desirable alternative to some of the more ''run of the mill" mainstream alternatives and the Yeti is very popular.'
Average selling price for the top five fastest selling cars is £15,791 – up 6.5 per cent on December.
At the other end of the spectrum, the slowest-selling used cars were:

Vauxhall Cascada
Kia Optima
Seat Toledo
Renault Scenic
Suzuki SX4 S Cross
Vauxhall currently have three cars in the 20 slowest selling models.
MORE: Suzuki withdraws new Celerio from sale
MORE: Jaguar XE wins beauty contest
MORE: Hyundai wants to be a top-five player