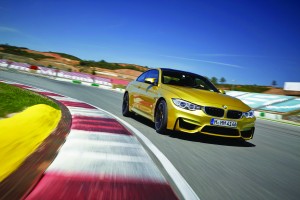 It's got a new name but the M4 carries on from the M3 coupe. Does it keep to the same recipe? Daljinder Nagra finds out.
WHAT IS IT?
Forget the tedious commuting hell that its name might conjure up, the M4 is BMW's rich Motorsport pedigree brought to the road. The new car has proved somewhat controversial among fans of the range, as it introduces turbocharging for the first time, and will sell in huge numbers equipped with a seven- speed dual-clutch auto 'box.

WHAT'S UNDER THE BONNET?
BMW simply couldn't get away with offering a new car with the decadent naturally-aspirated 4.0-litre V8 of the outgoing M3 Coupe. Instead, the M4 is fitted with a turbocharged 3.0-litre six-cylinder unit. Far from being a backwards step, the new engine develops 425bhp (11 more than before), making it faster not only in the benchmark 0-60mph sprint – now 3.9 seconds with the auto, 4.3 seconds without – but also in real-world driving conditions, as fuel consumption is now 30-plus mpg.
WHAT'S THE SPEC LIKE?
There are no trim levels to choose from in this flagship model. Instead, there's a well-specified cabin, which is largely a verbatim copy of the regular 4 Series Coupe. But everything has been given an extra flourish to make it feel more special. There's racy carbon fibre, sports seats, and the conventional steering wheel and dials have also been changed for more dynamic-looking numbers. Prices start at £56,650.

WHAT'S IT LIKE TO DRIVE?
Quite simply incredible. Driven on a day-to-day basis, the M4 is no more taxing than any other BMW. Thumb the adjustable engine, steering and suspension settings out of their default comfort mode and into sport and the M4's whole attitude changes. It becomes a hard-charging beast, but one that suffers fools gladly. We've yet to come across a car that is this precise and devastating but also so easy to drive quickly. Get it on a good road and customers will feel like heroes, no matter what their ability behind the wheel is.
WHAT DO THE PRESS THINK?
Pistonheads said: 'The M4 is a stirring return to form for an M division we'd feared had lost the plot a little. You get the sense the engineers have really dug deep on this one and gone all out to deliver a good'n. The happy news is it seems they truly have.'
WHAT DO WE THINK?
The M3 Coupe had long been the benchmark driver's car in its class, and we're delighted to report that the new M4 upholds its honour. While it has been criticised for moving away from its core driver-focused roots with its new turbo engine, BMW has used the technology to great effect, subtly enhancing every aspect of the car's performance and creating a more rounded daily proposition. That it offers seating for four and a large boot is just the icing on the cake.