IS LAURA Thomson impressed by Suzuki's combination of a 1.4-litre Boosterjet engine, four-wheel drive and sporty styling?
What is it?
When Suzuki revealed its new Vitara at the start of 2015, it was praised for its spaciousness and capability but there were only two mediocre engines to choose from. The introduction of the Vitara S and its new turbocharged petrol engine looks set to change this, and with its sporty styling the S model is targeted at a slightly younger demographic.

What's under the bonnet?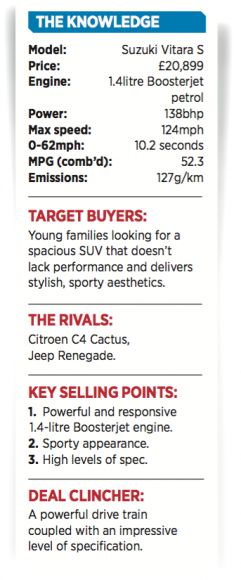 The Vitara S's 1.4-litre Boosterjet engine is Suzuki's first venture into turbo technology. The 138bhp direct-injection engine offers 41 per cent more torque than the 1.6-litre petrol unit found in the standard Vitara, while providing a four per cent improvement in fuel economy. The Vitara S can accelerate capably at both high and low speeds.
What's the spec like?
The Vitara S, the range-topping model, comes with many of Suzuki's safety and convenience features, including hill hold and descent control, a rear-parking camera, automatic air conditioning and a pollen filter. However, considering this high level of spec, the interior plastic surfaces have a surprisingly cheap, scratchy feel. While Suzuki hopes the sporty appeal of the Vitara S – which includes 17-inch black alloy wheels, front and rear silver skid plates and a rear upper spoiler – will attract younger drivers, the high price could mean the car is out of reach price-wise. A lower-spec Vitara S would solve this issue, but there are no plans to produce one.

What's it like to drive?
A track-based media launch proved the capabilities of the Vitara S's 'Allgrip' four-wheel-drive system, ABS and brake assist function as well as its electronic stability programme. With only the slightest of scrabble after harsh acceleration, the Vitara stuck to the track surprisingly well for a high-sided car. On the road, the Vitara S is responsive and doesn't lack power on motorways or when overtaking. However, as you'd expect from a car with a sporty set-up, the firm suspension isn't particularly favourable on rough roads.
What do the press think?
AutoExpress says: 'The new 1.4-litre turbo really does address one of the biggest criticisms of the Vitara. It now has that turn of pace, and, as an added bonus, it uses less fuel too. It's a shame the engine is restricted to the range-topping S model, but then again, you do get a very likeable and reasonably roomy little car'.
What do we think?
A sporty alternative to Suzuki's popular compact SUV, the Vitara S sets itself miles apart with its Boosterjet engine. It's a bright and comfortable ride, with good all- around visibility.
MORE: 500 and counting! Have YOU registered as a delegate for CDX16 yet?
MORE: Handbook: Nissan Leaf
MORE: Handbook: DS4 Crossback