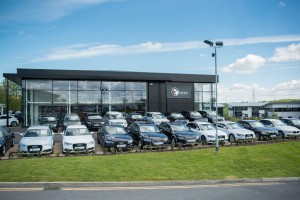 HIPPO Motor Group is celebrating 10 months at a new location that has brought them a 100 per cent growth in the number of staff and involved a significant upgrade of its service department.
The new dealership, in Trident Way, Blackburn, is on a major business park in the city.
The company has almost doubled the number of employees in the short time it has been at its new home. This has involved 23 new recruits joining the business, including leasing staff and mechanics. The vehicle prep team has doubled in size in line with a significant increase in the number of cars in stock.

The servicing side of the business has also seen huge growth with an increase in the number of technical staff. Hippo Motor Group offers retail servicing work on any make or model, from £69, with courtesy car and collect/deliver services available.
Hippo Motor Group works under two separate criteria: used cars (anything under £14,000) and prestige (anything valued at £14,000 or above).
The company was set up by father-and-son team Richard and Tom Preston in 2007 and has grown rapidly in the last seven years.
Tom said: 'Today we own our own purpose built £2m dealership, employ over 40 people and turn over close to £20m and that is mainly down to the great staff, diverse product range we have and our excellent reputation.'

The majority of Hippo's sales prior to the business's move were online, principally because few people knew where they actually were. However, with the progress that has been made so far, Hippo Motor Group really is making the most of its new location.
Among the business aims Hippo Motor Group has is a target to change the showroom's stock regularly to make for interesting displays for customers coming in; and to constantly refresh the images that they post on social media and their website.
Its plan is to keep up with the market by launching regular new schemes, as well as having some exciting things in the pipeline… so more developments are planned in the near future.