HR OWEN Ferrari is officially the best Ferrari dealership in the world, having been named Ferrari Dealer of the Year ahead of a hugely competitive set of more than 200 global retailers.
The latest award means that HR Owen Ferrari is now both the world's biggest and best Ferrari dealership.
The London-based business picked up the Global Ferrari Dealer of the Year accolade at the carmaker's world dealer conference, held in Italy late last year.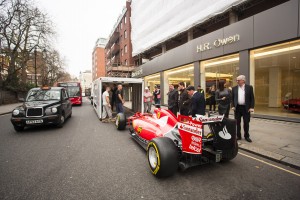 As well as the honour and recognition of being named the very best dealer of one of the world's most famous brands, the dealership was also awarded a 2015 Ferrari F1 car as part of the prize.
Every Ferrari dealer in the world aims to give buyers and owners a high-quality experience, and sets a high standard of customer care. All dealers were eligible for the closely-fought and highly-sought-after award, but HR Owen Ferrari emerged as a clear winner. The dealers are rated across all areas of the business, and all are assessed using the same scorecards.
The 2015 SF15-T Ferrari F1 car that was awarded to the winning dealer is now on display at the HR Owen site in Old Brompton Road in South Kensington. The car stopped traffic and turned heads when it was delivered, with passers-by pausing to take photos of the unusual sight of an F1 car on London's streets.
James Champion, HR Owen's Ferrari brand director, hailed the dealership's achievement, saying: 'To become a Ferrari dealership in the first place requires exemplary service in all areas, so to be named the best of an already impeccable set of dealers is one of our proudest achievements to date.

'Because of the complex nature of the assessment process it really is a combined effort from all of our team.'
MORE: GardX Protection announces official partnership with BMW
MORE: Motorline expands with acquisition of Medway Peugeot dealership
MORE: Ferrari shares stutter on their Italian debut
On SuperUnleaded.com: Tree topples onto road, takes out Vauxhall Corsa