THE latest edition of Car Dealer magazine is ready to be downloaded to your iPad – absolutely free of charge!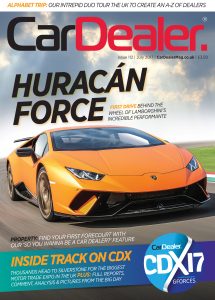 We've produced a bumper 132-page issue for July, and it contains more than 50 pages of coverage from CDX, which took place at Silverstone in May.
With thousands of dealers through the doors and more than 100 exhibitors filling the huge exhibition halls, it was the biggest and best CDX yet!

You'll find full reports of the discussions on the Live Stage, the many useful workshop sessions that took place on the day, and we chat to exhibitors about the success they enjoyed at the event.
Elsewhere in issue 112, our intrepid duo Rebecca Chaplin and Jon Reay embark on an A-Z tour of car dealerships, taking in such establishments as Avenue Cars, Southampton, Lookers Ford, Leeds, and Zenith Luxury Cars, Brentwood.
On test we have the Lamborghini Huracan Performante (pictured), BMW 5 Series Touring and the Volvo XC60.
Another highlight is the latest instalment in our 'So You Wanna Be A Car Dealer' feature, which, although aimed at dealers new to the industry is proving extremely popular with all our readers.

With another dose of invaluable legal advice from our friends at Lawgistics; the May new car registration figures from the SMMT; plus columnists Big Mike, James Litton and Ben Garside, issue 112 is not to be missed!
MORE: Rebecca Chaplin: Sofa, so good… and why dealers need to adopt latest tech
MORE: Future of Ford B-Max hangs in the balance as crossover sales boom
MORE: Demand for diesels set to drop sharply after 'public battering'
On SuperUnleaded.com: Road-Raging Biker Triggers Massive Chain-Reaction Crash After Kicking Car