Jaguar Land Rover is aiming to tap into the exploding new trend of car subscription services by launching one of its very own.
Called 'Pivotal', the new subscription service will allow customers to switch between various Jaguars, Land Rovers and Range Rovers every six months.
The British brand says Pivotal will 'allow members to to adapt their vehicle choice every six months, to suit their changing lifestyle, whether it's a new job, growing a family or the need for greater flexibility'.

Customers pay a single monthly payment which covers the rental cost, insurance, tax, servicing and repairs, leaving just fuel to pay for.
After six months, the customer will receive a fresh vehicle (or sometimes sooner, says the firm) and throughout the subscription term they can change or pause their commitment after the initial three months.
Up to two named drivers are included on the insurance and cars are limited to 1,500 miles per month. If the customer wants to change their car sooner, a £250 charge will be applied.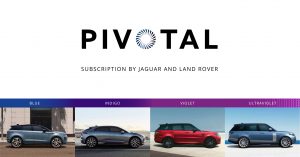 At launch there are a number of different membership tiers, ranging from £750 to £1,600 per month.

'Blue' is the entry-level service and for £750 a month a customer can choose a Land Rover Discovery Sport, Jaguar F-Pace or a Range Rover Evoque, while 'Indigo' – for £1,150 per month – opens up the I-Pace electric SUV, Range Rover Velar and the Land Rover Discovery.
The tiers are topped off with 'Violet' (£1,350 per month for the Range Rover Sport) and 'Ultraviolet' (£1,600 for the Range Rover).
JLR says plug-in hybrid versions of the Range Rover Evoque and Land Rover Discovery Sport as well as the new Defender will be added soon afterwards.
Dealers will be appointed to supply the vehicles.
Isobel Dando, managing director of Pivotal said: 'Traditional car ownership may not provide the flexibility required by some in the modern world, and with Pivotal we are able to offer an alternative, premium option.
'Our customers love driving and a subscription gives members chance to experience living with different vehicles – whether their priority is lower-emissions, advanced safety technologies, versatility or design, Jaguar and Land Rover vehicles have plenty to offer.'
Rawdon Glover, Jaguar Land Rover UK MD, added: 'The future of mobility has never been more in the spotlight and our customers are increasingly looking for more flexibility in the way they interact with us. We are constantly looking at new and innovative ways to deliver the best solutions for our customers and adding the Pivotal subscription service to our portfolio is the latest in a line of new services that put our customers' needs first.
'Through Pivotal and our network of retail partners, even more drivers can get behind the wheel of a Jaguar or Land Rover and we're excited to see how this new initiative fits in a post-pandemic world where personal transport will undoubtedly be in more demand.'