Kia dealership, Downeys Cars in Northern Ireland, has been praised for its community spirit and charity efforts after hosting a drive-in cinema to raise money for St John Ambulance.
The drive-in cinema popped up on Downeys Cars' showroom forecourt over three weekends in July, and so far it's raised more than £4,500.
Dealership owner David McCulla had the idea to host an 'outdoor cinema' in a socially distanced manner when many family friendly leisure outlets were forced to close in March because of lockdown.

After floating the idea locally, one parent's comments spurred David to turn the Downeys drive-in concept into a reality.
Speaking about the idea, the parent said: 'My son has cardiac conditions and severe Asperger's and has yet to manage a movie in a proper cinema – but this I think he could do! It would mean so much to us to actually make it to a family movie together.'
Downeys donated the full proceeds of the film screenings to the regional branch of St John Ambulance in recognition of key workers' efforts during the pandemic.
The dealer showed classic Disney and Disney Pixar movies and the screenings were enjoyed by many families, particularly by parents caring for children with complex needs.

Holywood-based event management company, Morrow Communications, worked with Downeys to ensure the events were planned safely and delivered within government guidelines and licensing requirements for both film distribution and radio transmission.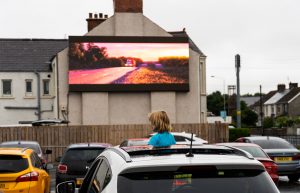 Other volunteer support was provided from North Down Women's Rugby, St John Ambulance and staff members from the dealership and Sixt NI.
Adrian Donaldson MBE DL, chief executive of St John Ambulance (NI) said: 'We are delighted that Downeys has chosen us as their event's charity partner. We cannot continue to save lives and support our community without public donations such as this, so we really appreciate the efforts David and his team have put in.
'St John Ambulance (NI) has been very much on the frontline supporting our NHS colleagues during this crisis, deploying ambulances on patient transfers and emergency calls all around the Northern Ireland. Donations received will go towards maintaining our ambulance fleet, training our volunteers, and to replenish essential equipment that we need to maintain our operations.'
The Mayor of Ards & North Down, councillor Trevor Cummings, added: 'I commend the vision and community spirit of Downeys and all of the local businesses involved in bringing this drive-in cinema experience to life.
'For those attending, it is an opportunity to enjoy a sense of normality and joy as we slowly approach a post-lockdown world.
'I am delighted that all funds raised from this initiative will provide vital support to St John Ambulance, enabling them to continue providing vital support during this crisis and beyond.'
To date, the cinema events have raised in excess of £4,500 for St John Ambulance NI and will finish this weekend (July 25 and 26) with screenings of Finding Nemo and Toy Story.
Tickets are available for a £15.00 donation on Downeys' Facebook page or via Eventbrite.