THE KIA Sportage was the fastest-selling used car of 2017 on average, according to data from Auto Trader – the second year running it has earned the accolade.
Figures from the online car marketplace show that the 2015 model of the South Korean SUV with a petrol engine and manual gearbox took an average of 24 days to sell last year.
It was one of four Kias that made the top 10 list, along with the 2014 petrol manual Sportage in fourth place, the 2014 petrol manual Rio in fifth and the 2015 petrol manual Rio in ninth.

Ford also did well in the top 10 ranking, with the 2016 petrol manual Kuga SUV placing second and the 2015 petrol manual Ka in at number eight.
Hyundai saw success with the petrol automatic i10 coming third and the 2014 petrol manual ix35 estate in 10th.
Toyota was another marque that had reason to celebrate, as the 2012 petrol automatic Yaris came sixth and the 2014 Prius hybrid automatic placed seventh.
Other than the success of Kia, the other noticeable trend in the 2017 top 10 list was the collapse of diesel models. Not a single one appeared in the rankings, with nine of the 10 cars being petrol and the one exception being a hybrid.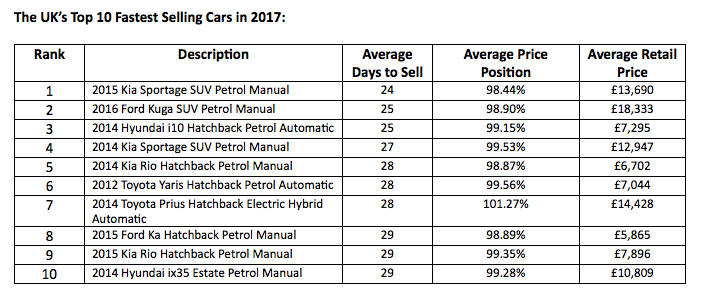 Karolina Edwards-Smajda, retailer and consumer products director at Auto Trader, said: 'What a great year it's been for Kia, and the Sportage in particular, which has consistently featured on the national and regional top 10 lists throughout 2017.
'It's not a surprise. The Sportage offers great styling and family practicality, and, of course, Kia's industry-leading seven-year warranty.'
Paul Philpott, president and chief executive of Kia Motors UK, said: 'We are delighted that Auto Trader has confirmed that the Kia Sportage was the fastest-selling used car for the second year running, and that Kia has four of the top 10 fastest sellers.
'Customers tell us that they love the stand-out design of the Sportage, as well as its ease of use and outstanding quality, which together make it an ideal choice as both a new and a used car.
'Our industry-leading seven-year warranty, which is fully transferable to future owners, also makes Kia used cars an unbeatable proposition.'
MORE: Kia Sportage is the fastest-selling used car of 2016
MORE: Kia Niro EV leads firm's electric car charge
MORE: Diesel cars are still popular with consumers, says Auto Trader
On WorkshopMagazine.co.uk: Garage starts year in style with £1,000 prize