THE Kia Sportage rocketed off the UK's forecourts faster than any other used model in March 2016.
The 2015 Sportage petrol, with manual transmission, took just 13 days to sell. Hot on its heels, at 18 days, was the 2013 model-year Sportage, again in manual, petrol form.
The Korean company provides a seven-year warranty on all its new cars so even on a 2013 model, buyers secure four years' peace of mind.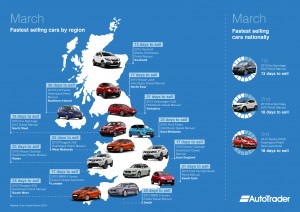 Crossovers are increasingly popular with consumers so it's no surprise the Sportage is joined by the similar-sized Hyundai ix35 (UK's eighth fastest seller) and the premium offering from BMW in the shape of the X1 (ninth fastest seller), with both models taking just 22 days to sell.
Karolina Edwards-Smajda, Auto Trader retailer and consumer products director, said: 'It's clear that the Kia Sportage is a big hit with used car buyers and it's not surprising, given how popular the new one is.'
London car buyers love their premium cars, and in particular, BMWs, Auto Trader found.
Completing a remarkable top-five sweep of the fastest cars to sell in London, the German marque dominated the sales chart for being the quickest to sell.

BMW's 2013 5 Series diesel automatic took just 17 days to secure a sale, followed by its smaller sibling, the 2012 3 Series in diesel auto form taking just two more days to sell.
Stepping down in size again, BMW's 1 Series premium hatchback took the next three quickest seller spots and there were seven BMWs in the list of London's top 10 fastest sellers.
MORE: How video has helped Cambria revolutionise car sales
MORE: New business development manager appointed
MORE: Suffolk dealer acquires second Nissan franchise
On SuperUnleaded.com: Utter Madness Unfolds As A Biker And Motorist Come To Blows