KIA retained its crown as Manufacturer of the Year at Car Dealer Power last night.
The most prestigious and final award of the evening went to the UK arm of the Korean manufacturer after its dealer network voted for it in droves. And it meant that Kia was the overall winner of Car Dealer Power for the second year running.
Announcing the company's triumph at the awards ceremony held at the top of Portsmouth's stunning Spinnaker Tower, Car Dealer founder James Baggott said: 'Our Manufacturer of the Year for 2017 probably has a separate cabinet at its UK headquarters just for trophies it picks up at Car Dealer Power.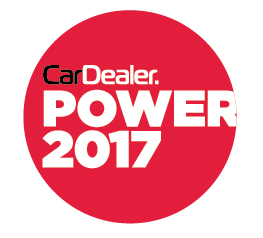 'This is a carmaker that's definitely delivering for its dealer partners. It's a brand that is seemingly unstoppable in its progress, with well-designed and reliable cars, all delivered with a seven-year warranty.
'Incidentally, March this year saw our winning manufacturer deliver almost 19,000 new cars to customers in the UK and reach a record first-quarter total of nearly 30,000. That's more than it clocked up in a whole year just 10 short years ago!'
Paul Philpott, President & CEO Kia Motors UK and Ireland, said: 'This is a really important award. It was important last year because it signalled how far we had come as a brand.
'To win it two years running says that whether the market is strong, as it was in the first quarter, or whether it's been much weaker, as it was in the second quarter, we're still working with our dealers.

'This is about a partnership between Kia and our franchised dealer network. It's a partnership that's only going to get stronger so watch out again next year!'
James Baggott added: 'The Car Dealer Power Awards are becoming more and more important every year because they represent the views and opinions of those on the frontline of the UK's motor trade, car dealers themselves.
'We were absolutely overwhelmed by the volume of responses to this year's poll.
'Our three manufacturer winners this year were totally deserving of their awards as they each won their respective categories with a landslide.'
The other two manufacturer awards saw the Seat Ateca voted Car of the Year; and Suzuki picking up the gong for having the best marketing initiative after teaming up with Ant and Dec to promote its cars.
Check out the video for more details of Kia's success at Car Dealer Power. It was produced by OnCue Communications, part of the Baize Group. Call 023 9252 2434 to discuss your video requirements with the team.
MORE: Suzuki scoops marketing initiative of the year award at Car Dealer Power
MORE: Who won what at Car Dealer Power 2017?
MORE: Seat Ateca voted Car of the Year at Car Dealer Power
On SuperUnleaded.com: Traffic-straddling bus misses its stop