THOUSANDS of votes were cast – and we're delighted to reveal who won what last night at the Car Dealer Power 2017 awards!
Car Dealer Power is decided by dealers filling in our survey, so manufacturers and suppliers who win their category or are highly commended can take great pride from the peer recognition – especially because it's all done anonymously, so there are no holds barred – with forms being filled out online and on paper.
It's the eighth year that we've organised it, with its importance and popularity in the industry growing and growing, and we exert no influence whatsoever on who's a winner – it really is entirely down to dealers, and they certainly let us know who they thought were tops and who they felt had room for improvement.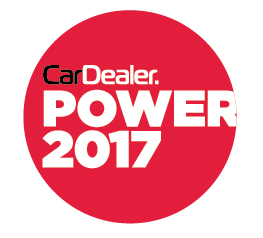 A glitzy ceremony was held at the Spinnaker Tower in Portsmouth, with its stunning views delighting the attendees. A raffle raising money for independent lifeboat station GAFIRS, based across the harbour in Gosport, also took place, with three terrific prizes of a pair of tickets to the MotoGP, two VIP tickets to the British Touring Car Championships at Rockingham, plus two tickets to the Classic Car Show including a behind-the-scenes tour with Mike Brewer.
Once the presentations had finished, those wanting to carry on partying headed to the Grosvenor Casino, where they stayed until the small hours of today.
James Baggott, the chief executive officer of Baize Group, parent company of Blackball Media, which publishes Car Dealer Magazine, said: 'It was an utterly amazing night! I felt incredibly privileged to be surrounded by those businesses highlighted by our dealer readers as being the best of the best in the automotive industry.
'Dealers voted in their thousands over the past few months telling us who they thought were the best suppliers to do business with and who they felt was the best manufacturer to represent. And that's what makes the Car Dealer Power awards so special and unique – we don't have anything to do with who wins.

'Whether they were highly commended or the outright winner in a category, they can all be extremely proud because it's incredibly tough to make it through to the night. Congratulations to them all!'
Full coverage of the event will appear in Issue 113 of Car Dealer Magazine, which will be published later this month. For now, though, here is the list of the winners and who was highly commended:
Car Cleaning Product of the Year: Winner: Autoglym. Highly commended: Autosmart, GardX
Recruitment Agency of the Year: Winner: Perfect Placement. Highly commended: John Gibson Associates, Progress Recruitment Solutions
Trade-to-Trade Remarketer of the Year: Winner: Dealer Auction. Highly commended: Autotrade-mail, BCA
Used Car Valuation Provider of the Year: Winner: Cap HPI. Highly commended: Auto Trader, Glass's
Consumer Lead Generation of the Year: Winner: iVendi. Highly commended: Codeweavers, What Car?
Dealer Management System of the Year: Winner: Dragon2000. Highly commended: CDK Global, Pinewood
Video Provider of the Year: Winner: CitNOW. Highly commended: Autos on Show, Dragon2000
Website Provider For Franchised Dealers: Winner: GForces. Highly commended: Autoweb Design, Bluesky Interactive
Website Provider For Independent Dealers: Winner: Spidersnet. Highly commended: 67 Degrees, Starkwood Media Group
Provenance Check Provider of the Year: Winner: Cap HPI. Highly commended: Experian, Motorcheck
Warranty Provider of the Year: Winner: The WMS Group. Highly commended: Car Care Plan, The Warranty Group
Paint Protection Provider of the Year: Winner: GardX. Highly commended: Autoglym, Supagard
Auction House of the Year: Winner: BCA. Highly commended: Aston Barclay, Manheim
Trade Insurance Provider of the Year: Winner: Unicom. Highly commended: Plan Insurance, Tradex
Finance Provider of the Year (Prime): Winner: MotoNovo. Highly commended: Black Horse, Close Brothers Premium Finance
Finance Provider of the Year (Sub-Prime): Winner: First Response. Highly commended: Evolution Funding, Mallard Vehicle Finance
Motor Factor of the Year: Winner: Euro Car Parts. Highly commended: Andrew Page, SC Motor Factors
Online Advertising For New Cars: Winner: Carwow. Highly commended: Auto Trader, motors.co.uk
Online Advertising For Used Cars: Winner: Auto Trader. Highly commended: CarGurus, Motors
Extra Mile Award: Lawgistics
Product Innovation of the Year: Winner: SpinCar, in association with GardX. Highly commended: Part-Exchange from Auto Trader
Manufacturer Marketing Initiative of the Year: Suzuki, for its partnership with Ant and Dec
Car of the Year: Seat Ateca
Manufacturer of the Year: Kia
MORE: Volvo Cars to electrify range from 2019
MORE: Beadles bought by Group 1 Automotive
MORE: Dealers urged to extend summer opening hours 
On SuperUnleaded.com: Billy Monger back in race car three months after life-changing crash