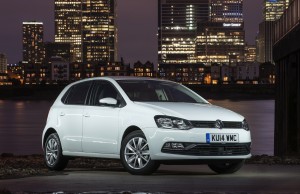 VOLKSWAGEN has achieved a record sales milestone, having sold more than 200,000 cars in the UK this year.
Commenting on the achievement, Alex Smith, director of Volkswagen Passenger Cars, said: 'Exceeding 200,000 car sales in one year is an achievement of which we're extremely proud.
'We have a great range of products, with a car to suit every need and taste, and the enduring appeal of the brand and its heritage have brought a record number of new customers to Volkswagen this year.'

The Volkswagen range extends from the award-winning up! city car through the recently-updated Polo, evergreen Golf, Passat and many other niches to the range-topping Touareg, Phaeton and XL1.
All cater for different requirements, but Volkswagen say they showcase the brand's key qualities of timeless style, safety, innovation and value for money.
Smith added: 'We have great and diverse products, but we also have a great team of people – in the factory, head office and our retail network – who have worked together and contributed to the brand achieving this record.'
MORE: New car registrations show an eight per cent rise during November

MORE: New VW showroom to open in Burton upon Trent
MORE: Jeep and Audi models are five-star performers, says Euro NCAP